Ten More Former Freaks & Geeks and What They're Up To Now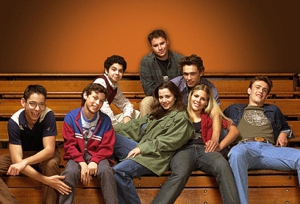 Freaks & Geeks was canceled in 2000 after just 18 episodes, but for many of its cast and crew, there may not have been a better career move. Executive producer Judd Apatow, in particular, has gone on to much bigger (if not always better) things, making stars of Seth Rogen (Ken Miller), Jason Segel (Nick Andopolis) and James Franco (Daniel Desario) in the process. Linda Cardellini (Lindsay Weir) just wrapped up a six-year run on ER (we'll forgive her for Scooby-Doo), and Samm Levine (Neal Schweiber) will round out a string of movie roles this fall with Inglorious Basterds.

But this weekend, as Rogen and Apatow go at it again in Funny People, our thoughts turn to the rest of the show's cast. Most haven't quite ascended to that same level of young Hollywood elite, but some have been quietly making nice little careers for themselves under the radar. Others, well—"nice" might not quite be the right word to describe what they've been up to the past nine years. For better or worse, here's a look at what some of our other favorite Freaks & Geeks cast members have been up to (or not).
John Francis Daley
Then: Sam Weir, geek
Now: Dr. Lance Sweets on Fox's Bones, plus a few projects in development—including, it seems, writing a script for a Shia LaBeouf project that this one dude on the Internet already thinks is definitely gonna suck.

Busy Philipps
Then: Kim Kelly, freak
Now: Look for her in Courtney Cox's upcoming ABC series Cougar Town. Or, better yet, just bust out your old Dawson's Creek DVDs—she played Audrey Liddell on the series from 2001-2003. (Also, bizarrely, she seems to be the godmother of her Creek co-star Michelle Williams and Heath Ledger's daughter, Matilda.)

Sarah Hagan
Then: Millie Kentner, geek
Now: After a brief reign as a television bit-part queen (Judging Amy, Grey's Anatomy, Medium), she's turned to movies, appearing in Spring Breakdown (with everyone you've ever heard of ) and Thunder Geniuses (with absolutely no one you've ever heard of) this year.

Natasha Melnick
Then: Cindy Sanders, prissy heartbreaker
Now: Starring with Amanda Plummer (daughter of Christopher) in the upcoming 1,001 Ways to Enjoy the Missionary Position (not porn), and in God Thinks You're a Loser (also not porn, but she apparently plays a stripper). What in the world would little Sam Weir think?

Chauncey Leopardi
Then: Alan White, misunderstood asshole
Now: Not much, lately. Perhaps the industry has blacklisted him for reprising his role as Squints Palledorus in 2007's abysmal The Sandlot 3.

Stephen Lea Sheppard
Then: Harris Trinsky, freaky geek
Now: Appears to have gone out on top after starring as Dudley in The Royal Tenenbaums.

Jessica Campbell
Then: Amy Andrews, Kevin's unlikely girlfriend
Now: Not much, but oh hey, she was that girl in Election!

JoAnna Garcia
Then: Vicki Appleby, cheerleader
Now: Currently starring in the CW's Privileged as the mind-numbing good-girl lead—too bad, she's better playing kinda dumb and mean (see also: Reba).

Ben Foster
Then: Eli, generic mentally-handicapped sweetheart
Now: Seems to be making a name for himself as a serious actor, with roles in 3:10 to Yuma and the upcoming The Messenger with Woody Harrelson.

Lizzy Caplan
Then: Sara, Nick's disco-dancing ladyfriend
Now: After big roles in Mean Girls and Cloverfield, she's currently filming Hot Tub Time Machine with Crispin Glover, John Cusack and Chevy Chase. We'll believe it when we see it. (Oh, there's a trailer? Okay, wait, yep, still don't believe it.)

Others Tagged With