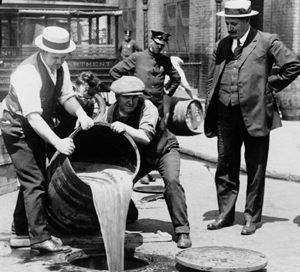 Above: Prohibition, what a waste.
Angelo Cammarata, 95, is the world's longest-running bartender. He's literally been serving since a few minutes after prohibition ended in 1933—he's even in the Guinness Book and Jim Beam's Bartender Hall of Fame for his longevity slinging suds. Of course, there's more to being a barkeep than pouring drinks. As this man has presided over his family business—no-frills neighborhood bar Cammarata's Cafe in West View, Pa.—for the better part of the last century and into the new millennium, he's also been a friend and counselor to his devoted regulars.
Now, Cammarata plans to retire, and in his honor we offer this playlist of songs about booze. Congratulations, Angelo, on a lifetime of hard work and good times at Cammarata's Cafe.
1. The Replacements - "Beer for Breakfast"
2. The Minus Five - "Cigarettes, Coffee and Booze"
3. Courtney Jaye - "Box Wine"
4. Jerry Lee Lewis - "Jack Daniels Old No. 7"
5. Todd Snider - "Beer Run"
6. The Champs - "Tequila"
7. The National - "Bitters & Absolut"
8. Gogol Bordello - "Alcohol"
9. Allstar Cashville Prince feat. Yo Gotti & Lil' Wayne - "Grey Goose"
10. Fear - I Believe I'll Have Another Beer
11. Willie Nelson - "Whiskey River"
12. Kiss - "Cold Gin"
13. Oasis - "Champagne Supernova"
14. Luke Doucet - "It's Not the Liquor I Miss"
15. Snoop Dogg - "Gin & Juice"
16. Johnny Russell - "Rednecks, White Socks and Blue Ribbon Beer"
17. Eric Burdon & War - "Spill the Wine"
18. Beck - "Beercan"
19. Tom T. Hall - "I Like Beer"
20. The Doors - "The Alabama Song (Whisky Bar)"
21. John Lee Hooker - "One Bourbon, One Scotch, One Beer"