Top Ten Wedding Recessional Songs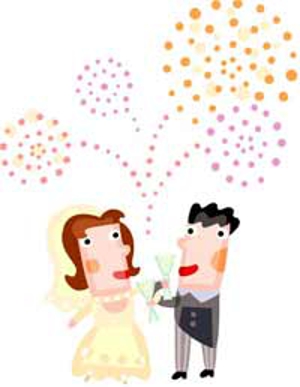 Since you guys have had so many suggestions for our first-dance and father/daughter songs (keep 'em coming!), I'm enlisting your help once again—we're looking for the perfect recessional music for our wedding. The song should be upbeat and celebratory since it will play at the end of the ceremony, right after we're pronounced husband and wife. Yippee!
Here are my top ten, though I'm not in love with any of them. You can listen below. Which ones do you like? Got any better ideas?
I'm happy to report that the Beatles are no longer excluded.
1. Zombies "This Will Be Our Year"
2. Ray Charles "Ain't That Love"
3. Stevie Wonder "Signed, Sealed, Delivered, I'm Yours"
4. Super Furry Animals "Hello Sunshine" (minus the first 45 seconds or so)
5. Bill Withers "Lovely Day"
6. The Beatles "When I'm 64"
7. Hank Williams "Hey Good Lookin'"
8. James Brown "I Got You (I Feel Good)"
9. Jamie Lidell "Wait For Me"
10. George Harrison "Here Comes The Sun"
Others Tagged With