16 Albums To Look Forward To This Fall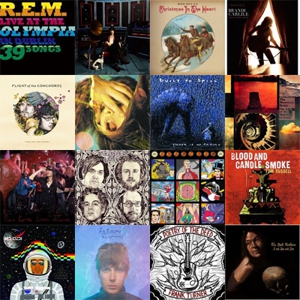 Page 1 of 4
We've already shared 25 Indie Films we're looking forward to this fall, but here are 16 albums coming out between now and the end of October that we think you should track down. They range from a little-known (in the U.S.) singer/songwriter named Frank Turner who releases a record today, to R.E.M., who has a live double-album coming out Oct. 26. At least three of these will likely end up among my 10 favorites of 2009, including my current Album of the Year.


1. Frank Turner - Poetry of the Deed (Epitaph, 9/7)


The Scoop:
English anti-folk singer/songwriter (and former hardcore frontman) signs to Epitaph for a U.S. release (out today).
Paste
falls in love.
Stand-out tracks:
"Live Fast Die Old," Dan's Song" and "Poetry of the Deed" reveal different facets of a gifted songwriter.
Verdict:
This is a likely candidate for my year-end Top 10. There's not a weak track among the 13 here, from pub sing-a-longs to angsty ballads.
Listen:
More Frank Turner Coverage



2. Kid Cudi - Man on the Moon: The End of Day (G.O.O.D./Universal Motown, 9/15)


The Scoop:
Recent
Paste Artist of the Week
and
Ratatat
/
Jay-Z
collaborator Kid Cudi is originally from Cleveland, but like everyone cool, now lives in Brooklyn. His debut album has
leaked
, but it's worth spending the change on the official release date.
Why we love him:
"He's rhymed over industry beats and original production, but also curveball samples from indie artists (LCD Soundsystem, Band of Horses) and classic pop and country (Paul Simon, Pasty Cline).
Man on the Moon
features a collaboration with MGMT and beat production from Ratatat that will likely grant the genre-melding Cudi broad appeal outside the hip-hop community,"
says intern Julia Askenese
.
More Kid Cudi Coverage

3. Tom Russell with Calexico - Blood and Candle Smoke (Shout! Factory, 9/15)


The Scoop:
A quarter of a century after his debut album,
Heart on a Sleeve
, the Texas troubadour has recruited everybody's favorite backing band Calexico for his latest release, recorded at Wave Lab Studios (Neko Case, Iron & Wine).
Tracklisting
:
1. East Of Woodstock, West Of Viet Nam
2. Santa Ana Wind
3. Nina Simone
4. Criminology
5. Crosses Of San Carlos
6. Finding You
7. Mississippi River Runnin' Backwards
8. The Most Dangerous Woman In America
9. Don't Look Down
10. Guadalupe
11. American Rivers
12. Darkness Visible

Verdict:
A solid addition to an impressive catalog.
More Tom Russell Coverage

4. Pearl Jam - Backspacer (Independent, 9/20)


The Scoop:
The band's ninth studio album finds Pearl Jam chugging along.
Verdict:
Respectable, says
Paste
web editor Austin L. Ray. "Most of their new album's first half alternates between gritty guitar-led jams and able pop-rock, and in these moments Backpacker truly succeeds. But several of the introspective tunes fall flat."
Watch:
the video for "The Fixer" directed by Cameron Crowe.
More Pearl Jam Coverage