20 More Musicians To Follow On Twitter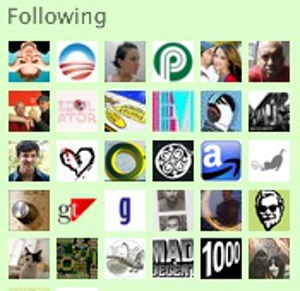 Page 1 of 2
Since
last we scanned the Twitterverse for our favorite musicians
, Trent Reznor has given up the Twitter ghost, but plenty of other musicians have begun updating in his place. These are just some of my favorites.

1. Camera Obscura - camera_obscura_

This Scottish band has released one of my favorite albums this year.
Best recent tweet:
Just been to collect my bike. Sometimes, cycling in Glasgow is a lot like the escape scene at the start of Raiders of the Lost Ark. K
Runner-up:
Amsterdam to glasgow. 90 mins spent in full view of a filthy urchin feasting gleefully on the contents of his own nose. K

2. Ben Folds - benjaminfolds

A prolific photographer, Folds shares his journey mostly through Twitpics.
Best recent tweet:
http://twitpic.com/fybt0 - buddha meditating on setlist for sydney opera house tonight.
Runner-up:
thinking of making last sydney show (sept 6) all request... will ponder format. free for all shouting requests? maybe picking out of a hat

3. Ted Leo - tedleo

Saw him live for the first time this year. He rocks like they used to.
Best recent tweet:
Yes! // RT @katedohe: Let's see if the tweet request works...can you play "Timorous Me" tonight at Street Scene?
Runner-up:
Follow Friday: follow @teddleo because whoever it is funny in his/her own right, but understand that it's someone parodying me, not "me."

4. Yo La Tengo - TheRealYLT

The Yo La Twitter went live in July. Baseball fan and former rock journalist, Ira Kaplan keeps it interesting.
Best recent tweet:
ok, try this: Yo La Tengo face the ABC News Inquisition. Dan Harris > Baba Wawa. http://tinyurl.com/nkwppe
Makes me wish i was playing music like that again.

Runner-up:
No, seriously, it's really us, and it's on.

5. The Low Anthem - thelowanthem

Brand new to Twitter, this Paste-favorite trio has started mostly with informational updates.
Best recent tweet:
heading to Europe for a MONTH on Wednesday! First up: 3 Irish shows - 2 in Dublin w/Ray Lamontagne G aiety Theatre+ Electric Picnic. JOY.

6. Counting Crows - countingcrows

Very personal feed from lead singer Adam Duritz
Best recent tweet:
Gotta be one of the best nights of my life. Back home in New York City with The Traveling Circus playing for all my friends. I live for this
Runner-up:
I felt like we absolutely rocked the house but I couldn't get to the high notes on Anna Begins or Why Should You Come. Fuck fuck fuck fuck

7. Coconut Records - CoconutRecords

If you weren't aware, Jason Schwartzman has a music side-project. And it's good.
Best recent tweet:
Davy, Coconut Records RT @PasteMagazine: Vote for your favorite album of the decade. Type "Artist, Album" followed by #pastealbumofthe00s
[How could we not pick that one?
]

8. Cary Brothers - carybrothers

If I hadn't followed this Hotel Cafe regular, I would've never heard the Haliburton song.
Best recent tweet:
B
efore they non-competitively took your tax money, haliburton once had a jingle... surreal... http://bit.ly/uA1T
Runner-up:
landed in holland, turned on the tv, saw this guy, and realized that i found my new look for 2010... http://ping.fm/8OnPz

9. Son Volt - sonvoltmusic

Not one to keep things under 140 words, Jay Farrar's Tweets are mostly links to longer blog posts.
Best recent tweet:
New Blog Post: Diego - Despite the weird yacht club vibe, last nights show was pretty fun. I was all for bringing ... http://ow.ly/15HXeY

10. Billy Corgan - Billy

He's been on Twitter long enough to have the handle "Billy." And his Tweets are almost solely of a spiritual-platitudes nature.
Best recent tweet:
I always feel closest to God in the early morning light. God/Love in its highest form is still, harmonious + patient.