Best Voices In Indie Rock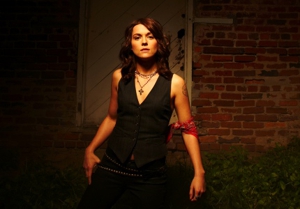 Photo by Jeremy Cowart.
Brandi Carlile inspired this list. I've been listening to her fantastic new record nonstop lately—mainly because I'm addicted to her voice. But some folks prefer a calmer and steadier voice like Mark Kozelek's, and others are partial to Neko Case's clear-as-a-bell-ness or Chan Marshall's sultriness. Here are my picks for the best voices in indie rock. Who did I miss?
Enjoy the playlist below, and stay tuned for next week's list of the Best Worst Voices.
1. Brandi Carlile
Carlile sings from the bottom of her gut. Her voice rises and falls, cracks and warbles with a disarming intensity.
2. Chan Marshall (Cat Power)
Once a shambling indie-rocker, she's now a dusky soul queen.
3. Antony Hegarty (Antony and the Johnsons)
How can so much heartbreak exist in one man's voice?
4. Sally Ellyson (Hem)
Ellyson's voice is the very essence of pretty.
5. Thom Yorke (Radiohead)
Yorke's unmistakable tenor is strong when it needs to be and fragile when it needs to be. And how about that falsetto?
6. Neko Case
Her bright and boomy voice could fill an airport hangar.
7. Jim James (My Morning Jacket)
James has a high, lonesome warble that sounds best slathered in cavernous reverb. He also has surprising range and a lot in common with Marvin Gaye's vocal style.
8. Jonsi Birgisson (Sigur Ros)
Nobody knows what he's saying, and nobody cares. That ethereal sound is enough.
9. Gillian Welch
Welch has got so much spirit, and a voice as rich as the Appalachia clay.
10. Mark Kozelek (Sun Kil Moon)
There's no one I'd rather have sing me to sleep.
Others Tagged With