Five Great (and Strange) Musical Origin Stories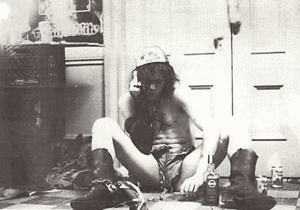 At a recent Decemberists show in Athens, Ga., Colin Meloy explained how he, in fact, created R.E.M. The epic tale went like this: Meloy was tirelessly working to complete a song entitled "Dracula's Daughter." Upon finishing the track, he realized it was the worst song that had ever been written. Apparently agreeing with Meloy, God himself wept a single tear—a tear that fell over Athens, Ga. in the form of torrential downpour. Caught without an umbrella, young Peter Buck and Michael Stipe rushed into a nearby record emporium to take cover, where they soon made each others acquaintance. And that is how R.E.M. came to be.

Phew. So maybe that origin story isn't really how R.E.M. started (Meloy was only six when the band formed, after all), but there are no shortage of tales of how our favorite musicians came to be our favorite musicians. Here are five of the best:
Bon Iver
The Story: Talk about some bad luck. In 2006, Justin Vernon's band DeYarmond Edison crumbled just as he came down with a wicked case of mononucleosis. Then he broke up with his girlfriend. The hat trick of troubles made for a very depressed Vernon; later that year, he moved back to his hometown of Eau Claire, Wisc. and shut himself off from the world in a hunting cabin his father built. He emerged three months later with For Emma, Forever Ago, and, well, you know the rest.
The Result: Has there been a better document of loss and heartbreak this decade? Vernon's acoustic ruminations sound like empty cabin music. Like wilderness, middle-of-nowhere, all-by-yourself music. Here's hoping he ends his recently-announced hiatus soon and makes another record.

The Postal Service
The Story: In 2001, Death Cab For Cutie frontman (and new Mr. Zooey Deschanel) Ben Gibbard collaborated with Dntel's Jimmy Tamborello on "(This is) The Dream of Evan and Chan" for an upcoming Dntel album. Both guys liked the sound, but, alas, Gibbard lived in Seattle and Tamborello in Los Angeles. What to do? Tamborello began sending Gibbard CD-Rs full of beats through the United States Postal Service, over which Gibbard recorded vocals and sent 'em right back. Bottom line: snail mail is totally not dead. Or wasn't, like, eight years ago.
The Result: The Postal Service's first and only album so far, 2003's Give Up, is an electro-pop classic.

Girls
The Story: Although this San Francisco band just bubbled up on the scene, the story behind Girls has been unfolding for years. Singer Christopher Owens was born to parents who drug him all over the world as part of the Children of God cult; he was often singing in the streets as a child member of the cult's choir. Finally realizing there was a world outside the cult, he jumped ship at 16 and moved to Texas. Without any formal education, he was embraced by the local crust-punk scene, barely making enough money to survive. At 20, an older, wealthy benefactor picked Owens out of poverty and set him up in San Francisco as a painter. Girls formed shortly thereafter through Owens and friend JR White's mutual appreciation of drugs and music.
The Result: Years of poverty, drug use, homelessness, abandonment and, apparently, God, made for one of the best albums of the year in Girls' debut album, Album.

The Mountain Goats
The Story: After John Darnielle's dad died early, his mother remarried a man who soon began to fade into alcoholism and take out his rage on his stepson. Once out of high school, Darnielle escaped his hellish home to Norwalk, Calif. to work as a psychiatric nurse. He began to record his acoustic meditations on cassette tapes using only his boombox microphone. The tapes made the rounds of bootleggers until a tiny record label picked him up. And all the while he was struggling with addictions to alcohol, opiates and amphetamines.
The Result: Bad breaks make for great material—Darnielle's released more than a dozen albums of intensely personal folk rock, to an increasingly rabid fanbase.

GG Allin
The Story: And here we come to the mother of all origin stories. GG Allin was born Jesus Christ Allin, named so because his zealot father believed that he had messianic visions about his son. The family lived in rural New Hampshire in a two-room log cabin without water or electricity in the early '60s. No speaking was allowed at night, according to Papa Allin's family rules and he threatened to kill them all regularly. Unsurprisingly, GG (nicknamed so because his younger brother couldn't pronounce "Jesus") was a bit of a loner at school, even after his parents divorced. GG played in several bands through the '70s and even got married—a reasonably normal life to lead—until he left his lady and shacked up with a 13-year-old girl, soon becoming one of rock's weirdest, most controversial pariahs of the '80s.
The Result: GG's shows usually found him kicking and assaulting the audience, stripping naked, defecating on stage and rolling around on the floor. Oh, and he once advocated rape during an appearance on the Jerry Springer Show. Lesson to be learned? Threatening to kill your children may cause long-term psychological damage.
Others Tagged With