Ten Songs Inspired by Movies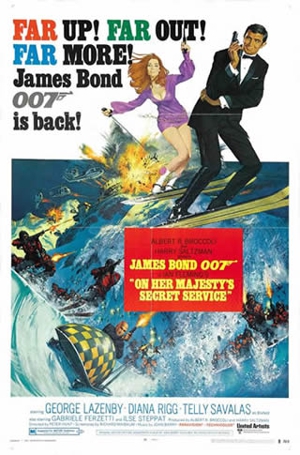 Movies are inspiring. Not just to the average Joe on the street, but also to the average (and not-so-average) songwriter. Here is a list of songs inspired by elements by the cinema:
1. "Like Lazenby" by Sondre Lerche
On his latest album,
Hearbeat Radio
, Norwegian orchestral popster Sondre Lerche showcases his James Bond knowledge by comparing his best efforts to the talents of actor George Lazenby, the forgotten one-and-done of 007's long legacy. Lazenby played Bond in the 1969 film,
On Her Majesty's Secret Service
, but apparently his believability only went as far as his physical stature. He never returned to the role.


2. "Mrs. Potter's Lullaby
"
by Counting Crows

Adam Duritz' lengthy and clangy lullaby features a mysterious "Mrs. Potter," who is thought to be actress Monica Potter. The story goes that Duritz was smitten by her after seeing one of her films. The track was released in 1999 on the Crows' third record,
This Desert Life
. Around this time, Potter's more popular roles were in
Con Air
and
Patch Adams
.
3. "All Over Now" by Eric Hutchinson

This number sprouted from one of Hutchinson's favorites,
Groundhog Day
. There are bits and pieces in the lyrics that pay homage to the Bill Murray classic, the most prominent being the motif of a worn down, monotonous state.
4. "Inaudible Melodies" by Jack Johnson

Ultra-chill singer-songwriter/filmmaker/surfer Jack Johnson drew from his early days in film school for the first song on his debut,
Brushfire Fairytales
. After studying the predicament of Bruce Lee's unfilmably fast kung-fu moves in class, Johnson penned the lyric, "Slow down Bruce, you're moving too fast, frames can't catch you when you're moving like that." After a little tweaking, these words now serve as the chorus to "Inaudible Melodies."
5. "Sink Hole" by Drive-By Truckers
Ray McKinnon's critically lauded short film
The Accountant
was what put the pen to paper for Patterson Hood and Jason Isbell. The movie is a dark comedy about a super-mathematically skilled accountant who tries to save a family farm. It went on to win the 2002 Academy Award for Best Feature Short. Drive-By Truckers recorded the track live and in one take during their first day in the studio.
6. "Carlotta Valdez" by Harvey Danger

Harvey Danger's choppy guitar licks were the highlight of the band's 1997 debut record,
Where Have All the Merrymakers Gone?
"Carlotta Valdez" is the opening track, the lyrics of which double as a plot summary for Alfred Hitchcock's 1958 psycho-thriller
Vertigo
.
7. "Breakfast at Tiffany's" by Deep Blue Something

The film reference here isn't quite as obvious as you might at first think. Todd Pipes' 1996 song originally sparked from watching
Roman Holiday
, the 1953 romantic comedy starring Audrey Hepburn and Gregory Peck. Pipes instead chose to reference another Hepburn classic. It just had the perfect syllable count.
8. "Clark Gable" by The Postal Service

From Ben Gibbard's 2003 collaboration, this song has more to do with his own home-movie making rather than anything Gable starred in, but the song undeniably points to the actor's
Gone with the Wind
era.
9. "Blue Magic" by Jay Z

This song is from Jay Z's 2007 concept album,
American Gangster
. Among other things, the record was inspired by Denzel Washington and Russel Crowe's film, which shares the same name and also debuted the same year.
10. "Bad Moon Rising" by Creedence Clearwater Revival

John Fogerty told
Rolling Stone
(in issue 649) that the 1941 film,
The Devil and Daniel Webster
, inspired his 1969 hit, first released on the album
Green River.
A town is decimated by a hurricane in the movie, which is what spurred Fogerty's line, "I hear hurricanes ablowing, I know the end is coming soon."