I'm Gonna Love You Just a Little Weirder, Baby: The 10 Most Bizarre Barry White-Referencing Articles on the Interwebs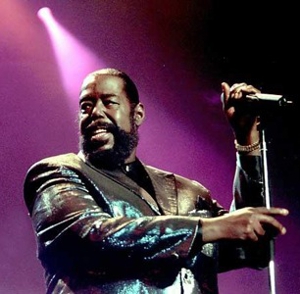 Page 1 of 3
Soul icon Barry White's sultry voice has been responsible for getting millions in the mood over the years. But all it got these folks was in the mood for posting some really weird shit on the Internet...
**1. "Walrus of Love Ignites Shark's Mojo"**
Excerpt: "An aquarium which piped the music of Barry White into a tank to encourage two sharks to breed says the tactic has paid off. Bosses at the Sea Life London Aquarium say the legendary 'walrus of love' has transformed love shy shark Zorro into a marine love machine. ... 'We are absolutely delighted that Zorro is finally getting it together with his intended but the courtship rituals of the zebra shark can appear quite violent and some guests have been a little alarmed,' says deputy curator Jamie Oliver."
**2. "Darth Vader Voices 'Scare Girls'"**
Excerpt: "Young girls are intimidated by deep voices such as Darth Vader but get to love them as they get older, new research has found. The St Andrews University study found the fear soon changes to curiosity at puberty, when they are drawn to deep tones such as soul singer Barry White. Psychologists found teenage girls had strong preferences for boys who sounded most like the so-called Walrus of Love."
3. "Could Someone Please Get Me Some Fucking Tartar Sauce"
Excerpt: "When he needs a break, Tom sits on a pile of egg crates, above which a sign reads: 'World's Biggest Douchebag.' This sign was created by Anthony, a 20-year-old, Dominican-born dishwasher turned assistant cook who got to know Tom a couple of years ago. They possess a peculiar son-I-never-had/father-I-never-had camaraderie that I still don't really understand. When Barry White's 'Can't Get Enough of Your Love' seeps from the stereo, Tom dubs it his mock love-ode to Anthony. When the Snoop Dogg remix of 'Riders on the Storm' comes on, Tom informs us to 'Bark, bitches, bark!'"
4. Renegade Wikipedia Entry: "Geddy Lee"
Excerpt: "[Geddy Lee] is credited with killing Mohammed, O RLY, and Oscar Wilde (though this can neither be confirmed nor denied) when he lured him to sleep with his Barry White impression, then killed him with three pink flaming balls, two of which were his own, explaining his castrati voice. When he is not landing gigs, huffing kittens or practicing Atheism, Geddy teaches at the Academy of the Flaming Arts, where he teaches his pupils the techniques he used to kill Mohammed and other people, as well as other cool techniques withswords, fire, ice, and applesauce."
Others Tagged With