Oh Comely: Five Neutral Milk Hotel Covers Worth Hearing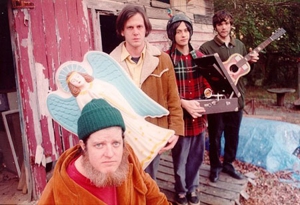 Hearing Neutral Milk Hotel via audiophile-quality vinyl for the first time will be a triumphant yet defeating moment. Why? Because the band's sad notes will strike louder than ever before, and every wailing horn will remind us that Elephant 6 offspring is gone, perhaps never to return.

Neutral Milk Hotel created a legacy with just two full-length albums, its second released more than a decade ago. Yet when it stopped at a mature peak with In the Aeroplane Over the Sea, the appreciation for the band's literate, wistful chanties (and not to mention, one of the Best Worst Voices in Indie Rock) continues to grow. This shows in the increasing number of Neutral Milk Hotel covers, some of which will surely help us grieve our loss:

"Oh Comely" - Brand New's Jesse Lacey
No emo vocalist but Lacey would even dare to approach this song, let alone attempt to hit every harrowing nuance that Jeff Mangum's voice created.