The 10 Best Comedians of the Decade (2000-2009)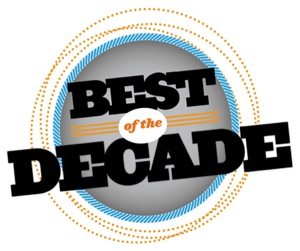 Page 1 of 2
"Good evening, my name is Bill Hicks. I've been on the road now doing comedy 12 years, so, uh, bear with me while I plaster on a fake smile and plow through this shit one more time. I'm kinda tired of traveling, kinda tired of doing comedy, kinda tired of staring out at your blank faces looking back at me, wanting me to fill your empty lives with humor you couldn't possibly think of yourselves." —Bill Hicks, Dark Poet
Being a funny person on a stage is not easy. It takes a unique determination to stand in front of complete strangers and hope they get it the way you get it. Oftentimes, they simply won't, but the trick is to keep going. The folks below did, and it is with great pleasure and great awe that we honor them—the 10 best comedians of the decade:
10. Aziz Ansari
With a cultishly popular MTV show (Human Giant), a flourishing stand-up career, a scene-stealing turn in Judd Apatow's Funny People, and a blog he actually posts on regularly, it's only fitting that twentysomething comic Aziz Ansari make our list. Whether he's hanging with idol Kanye West or bloodying up Ted Leo as "Clell Tickle: Indie Marketing Guru," Ansari stays connected to the music world while taking us all on the highway to the comedy zone. And watch out, entertainment journos; Ansari recently started writing articles for the likes of Interview. Besides, who else can lay claim to literally being the A to Z of comedy? Sara Miller
Click here to watch Clell Tickle: Indie Marketing Guru.
9. Mitch Hedberg
Mitch Hedberg was a master at relating simple observational ironies to his audience. His stand-up routine could've been achingly unfunny in someone else's hands, but an atonal, stream-of-consciousness delivery teased an almost confessional humor out of life's idiosyncrasies. His death from a drug overdose in 2005 only added to his mystique, transforming him into a cult comedy icon. Michael Saba
8. Eugene Mirman
Eugene Mirman's dozens of online video clips and his three brilliant standup albums this decade—along with the work of peers like Zach Galifianakis and Patton Oswalt—have taken comedy in a bold new, hilariously absurd direction. Mirman is the undisputed king of the perfectly executed non-sequitur ("This is a bag of dandelions! These aren't chicken strips at all!"), an expert lampooner of all things pop-cultural (check the Mötley Crüe Behind the Music clip at Eug-Tube), and a master at adapting angry screeds to soulless corporations into stage plays. Plus, he's a Maxim-magazine-certified "sexpert." Steve LaBate
7. Ricky Gervais
No one else can pull off the role of the oblivious blowhard like Gervais. The Office showcased his knack for playing a self-important ass, and his brilliant BBC series Extras extracted hilarious performances out of the biggest stars in show business. But the real surprise is how his stand-up comedy sometimes even surpasses his character acting. Emily Riemer
6. Sarah Silverman
Like more than a couple funny people on this list, Silverman specializes in the thorniest of topics—race. The woman who once delivered a bit about Martin Luther King just couldn't help herself, even in the get-out-the-vote video below, which mixes earnest enthusiasm for Obama with wicked jokes about ethnicity. Nick Marino
Others Tagged With