The 10 Best Food TV Shows of the Decade (2000-2009)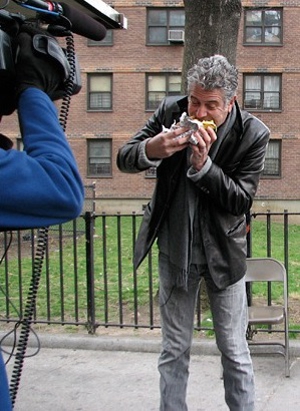 Page 1 of 5
It says something about America, no doubt, that we've reached a point where eating food is no longer enough—we now must be entertained by it. And boy, are we ever. In the past 10 years, more than ever before, food-related programming loomed large (on cable, in particular) and during the same decade that bid goodbye to Julia Child—a pioneer of so many things, including food TV—we welcomed the shiny young faces of Rachael Ray, Giada De Laurentiis, Bobby Flay and more into our homes.
But in much the same way that the past 10 years have ushered in a Golden Age of Television, so too has it seen a shift in the quality of food TV. There's still a place for the friendly host walking us through all manner of chopping and poaching on camera in a faux-homey studio kitchen, but this decade's best food programming has plied our species' basic need for sustenance with our culture's love of competition and thirst for voyeurism into shows that are suspenseful, hilarious, challenging, maddening, and stomach-rumble-inducing—often all at once.
Here are our picks for the 10 best food TV shows of the decade. Dig in.
10. Food Network Challenge (Food Network)
You might think it's a little silly, this idea of forcing master bakers to construct elaborate, mostly-inedible cakes within ridiculous time-frames in front of studio audiences, and then decamping to a back studio to hash out the details of the competition, Survivor confessional-style. But just try not holding your breath at the moment each team struggles to transport its towering confection from their workstation to the judges' tables. Those wobbling sugar spires and near-toppling layers may very well provide the most purely suspenseful moments on TV these days.
9. Barefoot Contessa (Food Network)
Jeffrey Garten is one lucky man. His wife Ina—the warm, motherly force behind the whole Barefoot Contessa operation—is a powerhouse of comfort food, rolling out roasted chickens and pot pies and tarts as if the universal balance between good and evil depends wholly upon it. Perhaps it's no coincidence, then, that she used to work in the White House as a budget analyst on nuclear energy policy. She cooks, he eats, and we drool.