The 25 Best Album Covers of the Decade (2000-2009)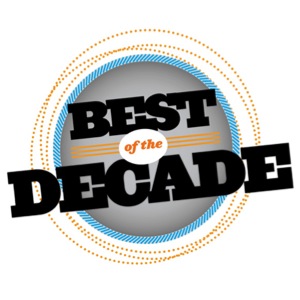 Page 1 of 25
From the simple but striking prism gracing Pink Floyd's Dark Side of the Moon to the naked, submerged, dollar-bill-chasing baby swimming across the front of Nirvana's Nevermind, a great album cover captures the imagination and sears itself into the brain, forever fusing its iconic imagery with the music it comes to signify.
Here are 25 album covers from the last decade that follow in this hallowed pop-music tradition...
25. Danger Doom - The Mouse and the Mask
Cover Artist: EH Questionmark
On top of some nice textures, and underscored by an ominous set of crossbones, the instantly recognizable mask of whimsical rapper MF Doom covers the face of the wily rodent representing producer Danger Mouse. It's simple, subtle and memorable. Plus, the art's cartoonish feel offers a preview of all the cartoon-character cameos that await on the album.