The 30 Best Cover Songs of the Decade (2000-2009)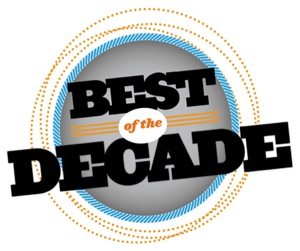 We hope you've enjoyed our month-long Best of the Decade series as much as we've enjoyed putting it together. This is our last entry, and a great topic with which to end.
So what makes a great cover song? Is it a seamless, letter-perfect rendition—a faithful execution of the original? Is it in seeing how far you can twist it from the original while still maintaining the song's essence? Is it about sincerity? Irony? Perhaps putting that unmistakable personal stamp on it? The truth is that there is no formula for a great cover, and that any combination of these factors might come into play. But one thing's for sure: When you hear it for the first time, and—to borrow a phrase from Herman Melville via Hunter Thompson—that "one shock of recognition runs the whole circle round," and you start flailing your arms in hyper-excited disbelief… then you know it's a great cover.
30. The Shins – "We Will Become Silhouettes (Original: The Postal Service)
29. Grant Lee-Phillips – Wave of Mutilation (Original: Pixies)
28. Rufus Wainwright – Across the Universe (Original: The Beatles)
27. Death Cab for Cutie – Earth Angel (Original: The Penguins)
26. She & Him – You Really Got a Hold on Me (Original: Smokey Robinson & the Miracles)
25. Beachwood Sparks – By Your Side (Original: Sade)
24. Widespread Panic – Chest Fever (Original: The Band)
23. Ryan Adams – Wonderwall (Original: Oasis)
22. Sun Kil Moon – The Ocean Breathes Salty (Original: Modest Mouse)
21. Jenny Lewis with the Watson Twins (feat. Ben Gibbard, Conor Oberst & M. Ward) – Handle with Care (Original: The Traveling Wilburys)
20. Gnarls Barkley – Gone Daddy Gone (Original: Violent Femmes)
19. The Raveonettes – My Boyfriend's Back (Original: The Angels)
18. Seu Jorge – Life on Mars? (Original: David Bowie)
17. Kate York – Boys Don't Cry (Original: The Cure)
16. Summer Hymns – It Takes Two (Original: Johnny Guitar Watson)
15. Yo La Tengo – Fourth Time Around (Original: Bob Dylan)
14. Drive-By Truckers – Mama Bake a Pie, Daddy Kill a Chicken (Original: Tom T. Hall)
13. Brandi Carlile – Hallelujah (Original: Leonard Cohen)
12. The White Stripes – I Just Don't Know What to Do with Myself (Original: Dusty Springfield)
11. Cat Power – Sea of Love (Original: Phil Phillips & the Twilights)
10. Jim James & Calexico – Goin' to Acapulco (Original: Bob Dylan & the Band)
9. Gillian Welch – Black Star (Original: Radiohead)
8. Iron & Wine – Peng! 33 (Original: Stereolab)
7. The Polyphonic Spree – Lithium (Original: Nirvana)
6. Gary Jules with Michael Andrews – Mad World (Original: Tears for Fears)
5. My Morning Jacket – Tyrone (Original: Erykah Badu)
4. Johnny Cash – Hurt (Original: Nine Inch Nails)
3. Jeff Tweedy – Crack a Smile (Original: Jandek)
2. Calexico – Alone Again Or (Original: Love)
1. The Flaming Lips – War Pigs (Original: Black Sabbath)