The 10 Best Producers of the Decade (2000-2009)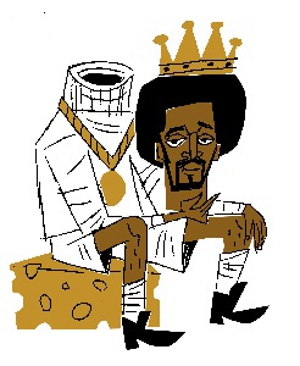 Producers are studio wizards, the men—why are they always men?—behind the scenes, laying the sonic foundation for our favorite albums. Here are the decade's 10 most accomplished knob-twiddlers.
10. Tucker Martine, who spent the decade working with The Decemberists (The Hazards of Love and The Crane Wife), Thao (We Brave Bee Stings And All) and Bill Frisell (The Intercontinentals and The Willies). Other notable projects: The collected works of Laura Veirs.
9. Brian Deck, an indie-rock specialist who gave us Modest Mouse's unexpected commercial splash The Moon and Antarctica, multiple Iron and Wine records and Josh Ritter's The Animal Years. Other notable projects: Counting Crows' attempted comeback Saturday Nights & Sunday Mornings.
8. Dave Sitek, the TV On The Radio musician who moonlights by producing little bands like the Yeah Yeah Yeahs. Other notable projects: Foals' killer Antidotes, which is a stupendous math-rock disc even if the recording process was somewhat contentious.
7. Phil Ek, the somehow-still-not-a-superstar producer who can handle pop (The Shins' Chutes Too Narrow), shimmery rock (Band of Horses' first two discs) and pastoral music that seems to split the difference (Fleet Foxes). Other notable projects: David Cross' comedy record Shut Up You Fucking Baby.
6. Kanye West, whose work on Jay-Z's timeless The Blueprint helped make that record the classic that it is. Kanye's solo work ain't bad either. Other notable projects: Common's breakthrough Be.
5. Mark Ronson, who tamed Amy Winehouse long enough to deliver a neo-soul masterwork in Back To Black, and who launched the career of a delightful British smart-mouth named Lily Allen. Other notable projects: Rhymefest's Michael Jackson Dedication mixtape, a hilarious and affectionate tribute to the gloved one.
4. T Bone Burnett, the maestro behind the O Brother Where Art Thou? and Cold Mountain soundtracks, which did more for old-timey roots music than anything since the Harry Smith anthology. Other notable projects: Brandi Carlile's The Story.
3. Timbaland, one of hip-hop's all time greatest beatmakers, who lent his skills to Missy Elliott and Jay-Z in the rap world, while also legitimizing Justin Timberlake as a solo artist and going toe to toe with Bjork. Other notable projects: Shock Value, his hit solo disc.
2. Rick Rubin, the bearded guru who coaxed a masterpiece from the Avett Brothers, steered the Dixie Chicks' comeback album, gave Johnny Cash a graceful exit and brought old-school hip-hop heat for Jay-Z's "99 Problems." Other notable projects: 12 Songs, a great Neil Diamond record!
1. Danger Mouse, whose Grey Album defined the mash-up movement, whose Gorillaz records fused Britpop to hip-hop, and whose Gnarls Barkley project unleashed one of the all-time great pop singles. Other notable projects: Black Keys' Attack & Release, Beck's Modern Guilt and the indie hip-hop classic The Mouse and the Mask.
Others Tagged With