Eleven Songs That Soundtrack Paste Staffers' Olympic Figure Skating Dreams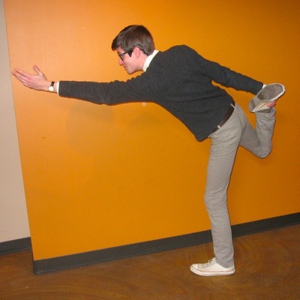 When it comes to the Olympics—and especially figure skating, I like to think—it all starts with a dream. Starry-eyed children mimic the moves of their heroes, trying to land double salchows in sock feet on hardwood floors, longing for the day they too will stand atop the medal podium with their national anthem blaring.
Sometimes that dream ends with a shiny gold disc clutched in sweaty, sequin-riddled hands. And sometimes the dream ends like mine did, finally strapping on a pair of ice skates only to realize I can hardly move in a forward motion, let alone attempt a triple axel. You mean you have to practice this? What? (Assistant editor Mike Saba, who limped back to his desk after I forced him to pose for a photo shoot for this story, would surely agree.)
So anyway, here I am, just another would-be Nancy Kerrigan forcing my co-workers to pick the song they'd most want to figure skate to at the Olympics for my weekly list for Paste. Turns out, quite a few of them had thwarted dreams of their own. I know we're stretching the qualifications on length, style and presence of vocals on most of these tracks, but whatever—the International Olympic Committee is more likely to start allowing Radiohead in the short program than any of us are to land even a single toe-loop.
Sarah Fox, multimedia intern: Dorothy Ashby - "Afro-Harping"
This piece of jazz harp perfection would beautifully back my flirty and whimsical choreography.
Mike Saba, assistant editor: Phil Collins - "Mama"
This sparse, thunderous exercise in '80s minimalism will have me circling around the ice just like how Collins circles around actual physical contact when he's sending a divorce notice to his ex-wife via fax. And imagine landing a double axel right as the chorus kicks in: "Ha ha, ha! (ughhhhhhh)"
Maggie Connor, marketing intern: Nick Drake - "Pink Moon"
Ice skaters can hug curves just as well as—if not better than—Volkswagens.
Nick Marino, managing editor: Cher - "Believe"
The pulsing beat and glimmering keyboards will provide inspiration during my climactic triple salchow.
Austin L. Ray, web editor: "Axel F" (theme from Beverly Hills Cop)
Undoubtedly the greatest synthesizer-led theme song to an Eddie Murphy-led motion picture, "Axel F" would carry me to a gold medal as effortlessly as it topped the Billboard Adult Contemporary chart in 1985.
Melanie Killingsworth, multimedia intern: David Bowie - "Life on Mars"
The song works well strategically because I don't need a mash-up—the music has plenty of energy, while still giving me calm spots to rest my aching quads. Plus, I'm already a girl with mousy hair.
Kevin Keller, multimedia producer: A-Ha - "Take On Me"
If I am already skating around in sequins doing twirls in the middle of a spotlight, I might as well fully indulge the moment.
Kaylie Damen, marketing intern: Cyndi Lauper - "Time After Time"
I picture myself soaring across the ice in a purple and sliver sequined suit with a flouncy skirt. This would preferably be a duet performance. Every time the song comes to the chorus ("If you fall, I will catch you, I'll be waiting"), I will do some amazing triple flip, causing the crowd to go wild and the judges' jaws to land on their score cards. My strong and equally stylish partner will then catch me right out of the air and we will continue to float across the ice—a purple, sparkly blur. Ahem. I mean, I haven't thought about it much or anything.
Josh Jackson, editor-in-chief: Radiohead - "National Anthem"
The groove would eventually take over the judges completely. And scare the children.
Rachel Bailey, editorial intern: Vitamin String Quartet - "Don't Stop Believing"
The verse would be perfect for the cutesy little dance moves they always start off with. And the chorus—oh, the chorus! If the evocation of Steve Perry's soaring rock wail couldn't help me get lift-off on a triple axel, nothing could.
Rachael Maddux, associate editor: Sigur Ros - "Gobbledigook"
And I'd take it one step further by wearing an all-beige costume, harkening back to the legions of nudies in the music video.
Others Tagged With