Thirteen Things Penelope Does Better Than You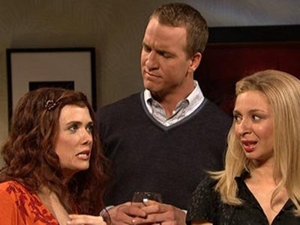 If you haven't heard, _SNL_'s Kristen Wiig is writing and starring in Judd Apatow's upcoming flick. While it's exciting to imagine this master of giant-forehead-and-epileptic-dog comedy in a leading role, I think we can all agree that no character will ever replace notorious one-upper Penelope. Except herself. She could probably replace herself so well that Tony the Tiger (whom she dated) wouldn't be able to tell the difference. Here are some of the things she has done way better than you:
1) Befriended all the Muppets, including Scooter.
2) Made a summer home on Jupiter.
3) Had 20/80 vision—cat eyes.
4) Gotten really angry, in a large hallway, holding a golf cart.
5) Driven herself in a nut car, doing promotional work for Planter. It was a Mr. Peanut on wheels; the windshield was a monocle and the convertible roof was a top-hat.
6) Been a puppet on Fraggle Rock.
7) Been best friends with a tomato and Liza Minnelli.
8) Had a salad bar in her car—the steering wheel was a giant crouton.
9) Served M&M&M&M's from Iceland at her wedding.
10) Worn horse blinders.
11) Bought a day from the government to celebrate National Penelope Day.
12) Had six children who spoke 44 languages before birth.
13) Invented kayaks.
"Penelope, Traffic School," SNL:

"Penelope, Therapy," SNL:

"Penelope," SNL:

Others Tagged With