Ten Memorable Oscar Acceptance Speeches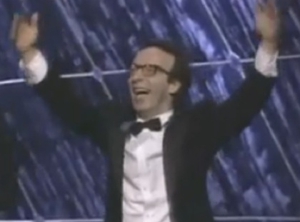 You've just walked up to the podium in a daze. After bracing yourself for the disappointment that you've been trying to convince yourself you shouldn't feel, some movie star in a bejeweled dress tears open an envelope and calls your name. Now all eyes in the room—and in millions of living rooms—are on you, and you have to say something funny and something poignant and thank all of the people who need to be thanked, and the giant clock that only you can see is counting down, just like Charlie Kauffman said it would. It takes a special talent to deliver a memorable Oscar acceptance speech. Fortunately—at least for the actors—they're pretty good at delivering a great line. Here are some of the best Oscar acceptance speeches of the last few decades of the Academy Awards. Honorable mentions go to Adrian Brody for kissing Halle Berry and Julia Roberts for telling the conductor to put that baton thingy down. Click on any name to watch their speech in full.

10. Matt Damon & Ben Affleck - 70th Academy Awards
Before Bennifer, before Armageddon/Gigli/Reindeer Games, Affleck was just a charming kid who wrote an excellent screenplay with his seemingly 14-year-old friend Matt. Tipping their hat to Cuba Gooding Jr., the pair's youthful exhuberence is contagious.

9. Dustin Hoffman - 52nd Academy Awards

After taking shots at the "garish" awards show, Dustin Hoffman responded to his Best Actor victory by giving a humble, thoughtful speech about the community of craftsmen in the Screen Actors Guild.
8. Gerda Weissmann Klein - 68th Academy Awards

After almost getting shuttled off the stage before speaking, The subject of the documentary short film "One Survivor Rememers" shared her wish to honor the memories of Holocost victims "who never lived to see the magic of a boring evening at home." Thanks, Oscars, for the good taste to turn the music back down.
7. Halle Berry - 74th Academy Awards

After becoming the first black woman to win Best Actress award, Berry was so overwelmed by a moment that was "so much bigger" than her that she could hardly speak. "This is for every nameless, faceless woman of color who now has a chance after tonight because this door has been opened," she said when she finally regained her composure and acknowledged the African-American women who blazed the trail she followed.
6. Marion Cotillard - 80th Academy Awards

Maybe it's just the French accent, but her proclamations of "you've rocked my life," "thank you life," "thank you love" are the definition of adorable.
5. Forest Whitaker - 79th Academy Awards

The
Last King of Scotland
star filled his speech with substance, proclaiming that, "It's possible for a kid from East Texas and raised South Central L.A.... who believes in his dreams, commits to them with all his heart, to touch them."
4. Glen Hansard & Markéta Irglová - 80th Academy Awards

"Tanks," began Hansard—frontman for Irish band The Frames—in his brief and eloqent speech before giving way to his
Once
co-star and future Swell Season bandmate Markéta Irglová. But the orchestra rudely cut her off before she could even begin talking. God bless Jon Stewart for bringing her back out.
3. Cuba Gooding Jr. - 69th Academy Awards

He makes good on a promise to ignore the obnoxious music that's bound to cut him off as he shouts his undying love toward, well, everybody. Instead of drowning him out, the music serves as sort of a score to his unbridled enthusiasm.
2. Sally Field - 56th Academy Awards

"You like me. Right now, you like me!"
1. Roberto Benini - 71st Academy Awards
After climbing atop the theater seatbacks, the
Life is Beautiful
star literally hopped up the steps to the stage and in broken English let the crowd know that he wanted to kiss them all. "I want to dive in the ocean of your generosity. It's a hail storm of kindness, of gratitude for you." He also thanks his parents for the "biggest gift of poverty."
This list originally appeared in February 2009.
Others Tagged With