A Few Last-Minute Oscar Party Ideas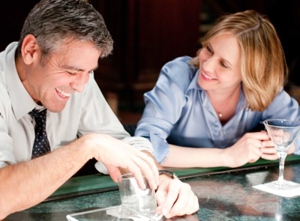 [Photo: George Clooney and Vera Farmiga get ready to, uh, "party" in Best Picture nominee Up in the Air.]
Tonight's the big night: All the stars will be out, the dramatic montages will roll, the little gold men will go home with all sorts of strangers—and, at the end of it all, we will finally stop talking about movie awards, at least until next year. Phew.
For now, though, if you've already picked your winners and/or copped someone else's opinions as your own, puzzled over the headier racial themes of this year's Best Picture nominees and found yourself yearning for someone to write a treatment for He Nose Too Much yet still haven't maxed out your Oscars-love, what else can you do? Well, there's still a few hours until the ceremony, so why don't you plan a little party?
More conscientious hosts and hostesses will have sent their invites out weeks ago and probably already have their old prom dresses and rental tuxes laid out in anticipation, but you don't have to get too fancy. Call/email/text/tweet/psychically contact some friends, tell them to meet at your place at 7 p.m. and get to work. Here are some last-minute ideas to get you started.
Plan a menu
There are ten Best Picture nominees this year, and Epicurious has whipped up themed menus for every single one. You won't have time to prepare one all by yourself, so go pot-luck with your guests. You can even mix and match the dishes—though I'm not sure how well Blind Side-inspired potato salad would pair with baba ghanouj a la The Hurt Locker. Either way, save some room for desert, because...

Bake some cookies
...Bakerella's gold man statue cookies are just too cute not to attempt. The recipe suggests starting a day ahead—you'll need some time to assemble the statues on their bases—but if you're coming up short, don't worry if you've gotta serve them flat. The gold sprinkle-icing is crucial, however. Don't happen to have an Oscar-shaped cookie cutter laying around? Wing your own! Or, if you're in New York City, just go buy some of these beautiful things. (And if you're really feeling desperate, just dye some dough blue and make yourself some Na'vi Coo'kies. You can even tell your friends you came up with that totally brilliant name on your own.)

Make some cocktails
Watching awards ceremonies is the only time I really understand heavy-drinking sports fanatics: With all the highs and lows, you pretty much need a drink in your hand to make it all OK. Bud Light might do for the Oscars, too, but there's no shortage of super-creative, super-duper-themed cocktail recipes online. You can even dig up some from years past (man, that June-go Citrus Splash sounds quirky and refreshing).
Play some games
With the drink situation under control, your next move is clear: Take a swig every time someone on TV utters the word "Avatar" and you will be properly schnockered in no time. For a more kid- and liver-friendly evening, download and print these Oscar bingo cards from How About Orange. And of course, there's always the matter of the personal ballot—print out a few of these guys, throw a couple dollars in a pot and let the intense, over-emotional film-related gambling begin. Have fun!

Others Tagged With