Seven Things to Remember for SXSW 2011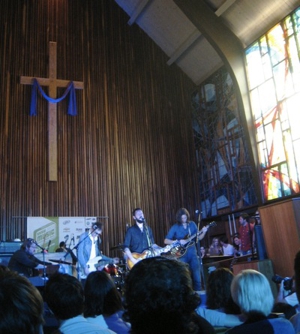 Dear Future Self,

Remember that time two years ago when you were totally delirious and sleep-deprived after SXSW and you wrote yourself that weird letter just to make sure you didn't forget all of the valuable lessons you learned that year in Austin? Well, in case you forgot, you actually found that note quite useful when it came to planning your trip the next year. And so then you decided to do it again. Hope this helps.

As always,
Your Past Self
Wearing good shoes was the best SXSW-related choice you've ever made.
Seriously, who needs Five-Hour Energy when you have nicely-broken-in Keds? Life is so much less exhausting when you're not limping.

Snacks are better than street food.
No need to shell out $5 for a slice of greasy, between-showcase pizza when you can go all Girl Scout style and just whip out your baggie of trail mix or fruit bars. Your travel companions will also appreciate it, both because they get to share in the wealth and because they don't have to suffer the wrath of your hangar.

It actually can get chilly in Austin.
Because you regretted wearing pants on so many occasions during past SXSWs, you stocked up on sundresses and only at the last minute threw in a pair of jeans last year. But it was a real close call, as you were about five seconds of forethought away from freezing your ass off during the breeziest SXSW in a while (probably close to showing your ass off, the way the wind was blowing). And yet you still got that sexy lanyard sunburn again. Guh.

Seriously. Sunscreen.
Guh.

Drag all your co-workers to Central Presbyterian Church for five-plus hours of music again.
Even if there's another total sad-trombone of a set like jj's glorified karaoke and dismal art-school video projections, it's one of the most pleasant places you'll ever see a show. Plus, if you're lucky, they'll be selling cupcakes again so you can eat another one illicitly inside the sanctuary. (Sorry, very nice church ladies—this is rock 'n fuckin' roll.)

Nerd out at some more panels.
You'd heard they had a reputation for being kinda boring, but hell, just do what you did this year and find the ones with folks on there whose ideas or work you like and just go and sit and listen. At best, you'll learn something new (like how good it is to have badass women writers willing to talk about getting death threats at metal festivals and seeing Iggy Pop's penis, OMG. At worst, you'll just have high school Model United Nations flashbacks.

Take the Capital Metro shuttle.
A cab from downtown to the airport will set you back at least twenty bucks; fare for this thing is one whopping dollar. Pocket the cash you save for next year's beer-and-taco-fund. Ah, next year...

Others Tagged With