It Was All Yellow: A Pollen Playlist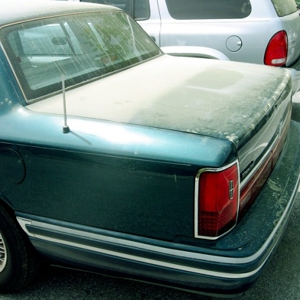 If temperatures in the 80s and all the chirping birds and baseball talk wasn't enough to tip you off that it's fully springtime, the fine yellow power coating everything outside the Paste offices will definitely do the trick (the once-green car pictured above was parked near our front door last week). Some cities hibernate for the winter, but here in Atlanta, it's usually the month of April that keeps people locked up indoors—the pollen is ridiculous. For those who suspect hyperbole, some statistics: A pollen count of over 120 is considered "extremely high" by specialists, but today it's a whopping 5733. Ugh! It'll all give way to lush, green trees and lovely flowers soon enough, but for now, it's utterly miserable for anyone with a touch of seasonal allergies. Is it like this where you live? Fret not—pull up a chair to your favorite (closed) window, stare lovingly out into the sneeze-inducing world outside and enjoy these springy songs.
The Ditty Bops - "Pale Yellow"
The Swans - "The Pollenated Girls"

M83
- "Run Into Flowers"
Alela Diane - "The Adler Trees"
Jeffrey Lewis & the Junkyard - "Bugs & Flowers"
Everest - "Trees"
Beachwood Sparks - "Once We Were Trees"
Psychedelic Furs - "Flowers"
Bowerbirds - "Bur Oak"
Mirah - "Pollen"
Animal Collective - "In the Flowers"
Radiohead - "Fake Plastic Trees"
Rush - "The Trees"
Blind Pilot - "Paint or Pollen"
Coldplay - "Yellow"
Others Tagged With