Ten Filmmakers Who Rocked the Ad World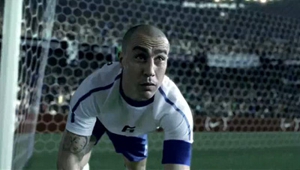 Page 1 of 2
Or, David Lynch Once Made a Commercial for Home Pregnancy Tests
The film is a high-octane epic full of fast-paced shots, thrilling pursuits and a heart-pounding score. The cast of thousands includes superstars from Gael García Bernal to Homer Simpson. Reviewers are calling it the director's best work in years. 
And it's only three minutes long. And also a commercial.
Mexican director Alejandro González Iñárritu (Babel, 21 Grams) is the auteur behind Nike's latest World Cup spot, part of their "Write the Future" campaign. The ad, which features a number of international football stars including Wayne Rooney, Cristiano Ronaldo and Fabio Cannavaro, has already received a swath of positive reviews for both Nike and Iñárritu and, at time of writing, more than 10 million views on YouTube. Here it is:
But Iñárritu is hardly the first filmmaker to bridge the worlds of cinema and advertising. Quite a few respected directors have taken up the camera to sell shoes, cars and even home pregnancy tests. Here are 10 who have used their behind-the-camera skills to make advertising a whole lot more fun.
1. Wes Anderson (American Express)
One of several filmmakers to be featured in American Express's "My Life, My Card" campaign, Wes Anderson's AmEx spot is especially notable in part just because of how freaking meta it is. Here, we have Wes Anderson directing a Wes Anderson movie in a commercial about how to direct a Wes Anderson movie accompanied by all the trademark elements of a Wes Anderson movie. The rapid-fire dialogue, the orchestral score, the use of Jason Schwartzman: His identity as a filmmaker is consistent and resonant. And the whole thing is done with a dose of humor and jabbing self-parody, which is pretty admirable.
2. Spike Lee (Nike, Levi's 501)
Always up for a challenge, Spike Lee took the ad world by the horns when he ran with the bulls in Pamplona, Spain in button-fly 501's for a Levi's spot. But his campaign for Nike Air Jordans with the mighty Mr. M.J. himself (and Lee as "Mars Blackmon") is where the guy makes history. As it turns out, the same quick-cut editing, bold use of lighting and in-your-face attitude that made viewers of his films take notice made for ultra-cool sneaker ads. Even if it's commercial, Lee never compromises his style. Question: How great is Little Richard as Aladdin's genie? Answer: SO GREAT.
3. Spike Jonze (Nike, Gap, Levi's)
Jonze (Adaptation., Where The Wild Things Are) got his start directing music videos for artists like the Beastie Boys and Fatboy Slim, so it's only natural his commercials would exude quirky-cool sensibilities and rely heavily on music and movement. The best is his graceful, dreamlike "Y2K" spot for Nike, where a runner jogs along through Jonze's absurd, post-apocalyptic landscape.  
4. Ridley Scott (Apple)
It makes sense that a man known for epic, grand-cinema moviemaking (Gladiator, Alien) would be behind the camera for one of the most memorable and cinematic television commercials of all time. No stranger to unsettling, futuristic sci-fi imagery (Blade Runner), Scott's background served him well in directing the now-iconic Orwell-inspired 1984 Super Bowl spot for the Apple Macintosh. The technology may be outdated, but the ad remains the standard by which television commercials are judged.
5. Michel Gondry (Levi's, Air France, Smirnoff)
Gondry's active, colorful imagination has given fans such tasty eye candy as The Science of Sleep, Eternal Sunshine of the Spotless Mind and even the goofy remakes in Be Kind, Rewind. He brings that same creativity and visual flair to his commercial work, from his airy dreamscape of an Air France ad to the Skittles-colored palate and ever-changing, ever-engaging fantasy world he creates in a spot for Smirnoff.