Six Reasons To Watch Party Down Right Now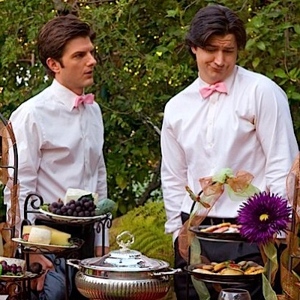 Page 1 of 2
Party Down is a TV show. One of the guys who created it was behind The WB series Veronica Mars, and another is chronic funnyman Paul Rudd; it's on Starz, it's about a bunch of wannabe Hollywood-types working at a floundering catering company to make ends meet, and it's hilarious! But there's a very good chance you aren't watching it, and that's a bummer. Here are six reasons you should start right now.

You appreciate the hilarity of career-related despair, but
The Office
has just been bumming you out.
It's certainly more than a little demoralizing to see this crew of would-be talents schlepping
crudités and cocktails while desperately trying to make a go of it in Hollywood, but at least the minimum-wage despair plays out against an ever-rotating backdrop of ritzy homeowner association shindigs, gay weddings and failed orgies. Better that than Scranton's flourescent-lit hellhole of unbelievably-forced awkwardness, right? And when things get really bad, there are always drinks at the ready.
Adam Scott plays the best straight-man on TV (but maybe not for much longer).
It seems entirely likely that this guy was cast purely on his
single-eyebrow-raising ability
, a skill he employs at least forty-seven times per episode as the ostensibly-retired actor Henry, an island of sanity in a frothing sea of pink-bowtied egos and thwarted dreams. Too bad Scott's been
scooped up for a spot in the third season of NBC's
Parks & Recreation
(you might have seen him in the season finale as one of the two state auditors sent to straighten up Pawnee's finances). Here's hoping they manage to resolve his maddeningly adorable will-they/won't-they with Lizzy Caplan's Casey before he goes.
You love unhinged Jane Lynch but can't stand
Glee
.
In
Party Down
's first season, she appears as Constance, a daffy, washed-up thespian who's somehow both starry-eyed and fiercely competitive, and a bit of Sue Sylvester's cut-throatery occasionally pops up—like when she admits to hitting a fellow actress with her car at an audition. All the vaguely uncomfortable laughs, none of the Auto-Tuned high schoolers!
Others Tagged With