A Dozen Musical Artists and the Sports Teams They've Rocked For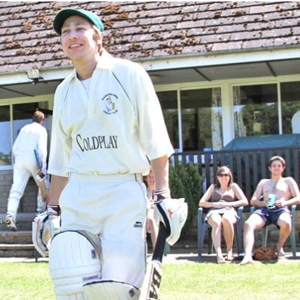 Page 1 of 2
We posted some thoughts after the World Cup's first group matches and told you about the best world cup Twitter feeds. We even tried to help you get excited about the month-long sporting event by showing you bits of web awesomeness spreading World Cup fever.
Sometimes, we're really into sports. Sometimes, musicians are too. Some have recorded songs for their favorite team, while others have used their fame and wealth to sponsor teams and build sporting facilities. Here are 12 specific instances of artist-sport involvement that take the term "sports fanatic" to a whole new level.
Coldplay
Pictured is a batsman for Slaughters United, a Gloucestershire County League Fourth Division cricket team. He's not just wearing a Coldplay jersey because he likes the band. Guy Berryman, bass player for the London-based four-piece, actually wrote the team a check for $1,100 and decided to sponsor them after their batsman and wicket-keeper, Paul Heming, wrote Berryman asking for some support.
Wilco
Jeff Tweedy & Co. recently announced their decision to sponsor not one, but two sporting teams. Two little league teams, one of which is based in Chicago (The Royals) and the other in Northampton, Mass. (TMM/Wilco), can now brag to their friends (and other teams) about their rock star-backed status. According to this ranking site, TMM/Wilco currently holds the second place title in their four-team division.
Weezer
When Dizzee Rascal released "Shout for England," long-time U.S. Men's National Team fans Weezer fired back with a World-Cup anthem of their own. They "Represent" for the USMNT in a music video (below) that pairs clips from the team's qualifying matches with the power-chord-heavy jam.
Dropkick Murphys
Back in 2004, the Dropkick Murphys released their own punk-rock rendition of "Tessie," a former Red Sox anthem. Watch a video of the band playing the song live at one of their favorite team's games below:
The Hold Steady
"It's always a shame when the Twins don't win," Craig Finn sings on The Hold Steady's rendition of "Take Me Out to the Ball Game." He's referring to the Minnesota Twins, of course, who personally asked the band's frontman (a Minnesota native and long-time Twins fan) to record the song for their team. Click on the link below to give it a listen:
The Hold Steady – Take Me Out To The Ballgame.mp3
Prince
Speaking of Minnesota, remember that song Prince penned for the Minnesota Vikings after they defeated the Dallas Cowboys earlier this year? "Purple Pride"? So that happened:
Others Tagged With