Sixteen Significant 1964 Moments Mad Men Might Tackle in Season Four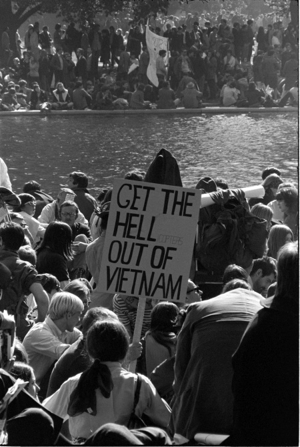 This story is a part of our Mad Men Takeover. Season four of the series premieres on AMC this Sunday, July 25.
--
If there is a decade that wants for significant, American-history-changing moments, the '60s is not that decade. The setting for AMC's hit series, Mad Men, it brims over with big events for characters to reference between mid-afternoon sips of their Old Fashioneds: So far, we've watched Pete exploit the death of his father, who was aboard the 1962 American Airlines crash in Jamaica Bay; we've seen Joan hide in Roger Sterling's office and cry at the death of Marilyn Monroe; we've bid Kinsey farewell as he briefly took up the Civil Rights banner in Mississippi; and we've witnessed the Drapers' marriage unravel with the JFK assassination as a backdrop.
Season four, which premieres tonight, picks up in 1964, when racial tensions were running high, Vietnam was growing out of a conflict and into a full-blown war and four mop-tops from Liverpool first washed up on America's shore. But which historical moments will make it on the show? Here is a list of the top 16 moments we're excited to see get the Mad Men treatment:
Smoking is bad for you—officially.
The Surgeon General issued its first governmental warning that "smoking may be hazardous to your health" on Jan. 11, 1964. We're guessing this won't have much affect on Don and the other company men, but maybe it will be enough to keep all the pregnant women from lighting up.
A woman for President?
On Jan. 27, 1964, Margaret Chase Smith became the first woman to have her name placed in nomination for the Presidency at a major party's convention. Barry Goldwater went on to win the Republican nomination that year, but the point is, she was in there. How will the Mad Men react to the possibility of woman stepping out of the typing pool and into the Oval Office?
Beckwith walks free
Last season, the show ddressed the assassination of civil rights leader Medgar Evers, but will they acknowledge the trial of his assassin, Byron De La Beckwith? On Feb. 7, 1964, Beckwith's all-white jury declared they could not reach a verdict, which resulted in a mistrial and no conviction; the same thing happened when he was tried again later that year.
Beatlemania!
The Feb. 7 arrival of the Beatles at JFK (and the throngs of screaming girls that greeted them) marked the beginning of the British Invasion and America's still-running love affair with the Fab Four. Perhaps the secretaries will duck out on their lunch hours to be a part of the festivities.
Kitty Genovese stabbed
On March 13, 1964, a woman named Kitty Genovese was stabbed to death in the lobby of her Queens apartment building. The next day, the New York Times reported that 38 people who lived in the building heard or witnessed the attack but offered Ms. Genovese no help. Later reports indicated smaller numbers, but the city was horrified nonetheless.
Jack Ruby convicted
Two days after he was arrested on the charge of shooting a Dallas police officer (to which police added the charge of assassinating President Kennedy), Lee Harvey Oswald was gunned down by nightclub owner Jack Ruby, effectively robbing him and America of a proper trial. On March 14, Ruby was convicted of Oswald's murder.
Jeopardy! debuts
March 30, 1964 marked the first time America heard the words, "This is Jeopardy!" Hosted by Art Fleming, Jeopardy! was a daytime quiz show when it first aired, and the toughest clues were worth $50. Will it become a fast favorite with housewives (and thus, with advertisers)?
Enter the Mustang
The Ford Mustang, one of America's foremost material symbols of success, was unveiled to the public on April 17, 1964. Who will get one first? Don? Roger? Pete? Joan?
Vietnam Protests
By spring, public support of the war in Vietnam was waning quickly. As evidence of this, students staged the first major demonstration against the conflict in New York, San Francisco and other American cities on May 2. The world of Mad Men has already expressed its collective disdain for hippies, beatniks and "young people"—how will it react to them picketing in Times Square?
Airplane Gunman
We've already seen the Mad Men deal with a deadly plane crash, but what about a deadly plane crash caused by a raving mad gunman? On May 7, 1964 a Pacific Airlines flight crashed when a suicidal passenger shot the pilots. Let's see the guys at Sterling Cooper Draper Pryce try to turn that one around with some clever ad campaign.
Freedom Summer
During the summer of 1964, several students involved in the Civil Rights movement headed to Mississippi to register black voters, calling the effort "Freedom Summer." Over the course of the trip, at least four participants were killed and over 1,000 were arrested. With Kinsey already having spent time with then-girlfriend Sheila registering voters in Mississippi, will he follow this story, too?
The Pope condemns The Pill
On June 25, 1964, the Vatican condemned the female combined oral contraceptive pill. What's Peggy going to do now?
The Civil Rights Act passed
President Johnson signed the Civil Rights Act on July 2, 1964, enforcing equality in voter registration and outlawing segregation in schools, housing, hiring and all public places. Will a black associate show up on staff at SCDP after this, or will such a change be a bit longer to come?

Harlem Race Riots
On July 18, 1964 six days of race riots began in Harlem in response to the murder of a young black boy by an off-duty New York police officer. We're pretty sure none of the Mad Men spend much time in Harlem, but Manhattan is a small island, and six days of rioting anywhere is bound to affect Madison Avenue.
Gulf of Tonkin
On August 2, 1964 the USS Maddox destroyed three North Vietnamese torpedo boats that attacked it as it sat in the Gulf of Tonkin. Two days later, the Maddox reported firing on other threatening vessels, though this time no evidence of the destroyed vessels could be produced, and even the Captain doubted the report. Still LBJ appealed to Congress for a resolution allowing him to conduct military operations in Southeast Asia without first receiving a declaration of war. On August 7, 1964 they obliged him. And the escalation began.
LBJ Reelected
On November 3, Lyndon Johnson won the 1964 Presidential election by a landslide, due in part to a convincing ad campaign. Check out an example below. Will Sterling Cooper Draper Pryce make a bid for the account?
Others Tagged With