Nine Things Arcade Fire Has Done Lately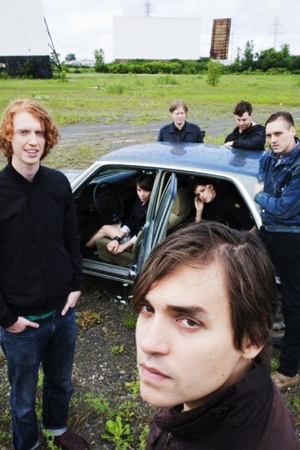 Arcade Fire has been pretty busy lately, but you know what? You're no slob yourself. You've got a job, friends, a family, a dog to walk, some hair to shampoo—whatever it is, you likely have a pretty good excuse for not following the band's every move over the last few weeks. But there's no reason you should have to suffer from dwindling knowledge of the recent major news and public appearances of the bombastic septet, which—at least for the next couple days, until the Billboard 200 chart rolls over again—is kinda sorta the biggest band in America. If you missed out on any of it, or if you just want to relive it all over again, here's a brief primer on what Arcade Fire has been up to lately—complete with video, when available, just in case you want to take it one step further and pretend you were actually there in the first place.

Put out an album that some people like and some people don't like.
One of those people writes for Paste. Another of those people also writes for Paste (and is also me). Opinions! Wow!
Played a killer set at Lollapalooza.
MTV called the performance "epic" and Stereogum heralded it as "full of both inevitability and emotion." We snapped some pictures.
Watch them perform "No Cars Go" at the festival:
Sold out Madison Square Garden.
And, perhaps even more excitingly, got directed by Terry Gilliam and didn't die some weird mysterious death and/or get crushed by a giant cartoon foot in the process!
Watch them perform "Rococo" at MSG:
Answered some questions for Twitter.
In conjunction with the MSG shows, three-sevenths of the band fielded queries from fans online, teaching us that multi-instrumentalist Will Butler has a world-music compilation-buying compulsion and that drummer Jeremy Gara loves Die Antwoord and Nutella. Sadly, no one asked where Gilliam, who moderated the session, got that fancy shirt.
Watch part one here:
Found out The Suburbs debuted at #1.
Up next week, an epic battle with Disney's Camp Rock 2: The Final Jam soundtrack.
Did not sell out the Verizon Wireless Amphitheater.
Apparently having the top album in the country wasn't enough to lure a capacity crowd of Paste's Atlanta neighbors all the way out to the city's newest outdoor venue, though it made for plenty of "Suburbs in the suburbs, hyuck!" jokes. But everyone we know who went had a great time, and all the extra elbow room likely made for some much more fluid whitefolk-dancin'.
Watch Arcade Fire play "Wake Up" in Atlanta:
Played The Daily Show.
Here's a clip of them doing "Ready to Start," but if you're unwilling to deprive yourself of a fairly clever Where The Wild Things Are visual joke and John Hodgman talking to the skull of James Madison, watch the whole episode here.
Announced more North American tour dates.
After a jaunt through Europe, September and October will see the band playing major metro areas (and/or their suburbs) from Minnesota to Mexico.
Got challenged by Buckcherry.
Wait, no! Arcade Fire's name was clearly just dropped into the title of this video to grab some YouTube traffic, which sounds dumb but it totally worked on us. Also, hey, did you know Buckcherry has a new album coming out? And they recorded an exclusive acoustic EP for Best Buy. Those guys!


Others Tagged With