Sixteen Comedians, Musicians and Actors to Follow on Tumblr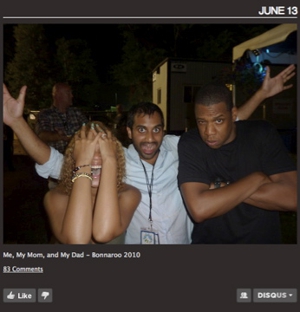 No, we're not talking the NonSociety.com, fameballing type Tumblr celebrities. We scoured the Tumblrwebs for our favorite comedians, bands and actors who have taken to the multimedia-focused blogging service and are doing fun, interesting things with it.
Oh, and you should also follow Paste's Tumblr while you're at it.
Aziz Ansari (AzizIsBored.Tumblr.com)
Aziz Ansari (Parks and Recreation) loves to share, kind of like your buddy who sends you mildly entertaining links while you're at work but without the sheer frustration of watching your inbox pile up. Fans will enjoy the references to Aziz's characters and standup, including Taavon and his cousin Darwish, while the uninitiated can relish in hilarious videos from Ansari's comedy peers (including Elizabeth Banks and Zach Galifianakis) and amusing vintage clips of a Teenage Mutant Ninja Turtles Live! show. The only thing this Tumblr needs? More DJ Roomba.
Donald Glover (IAmDonald.com)
He may not get to be Spider-Man (much to our chagrin), but actor and comedian Donald Glover (Community) is most definitely a Tumblr hero, and one classy dude. There's lots of pretty pictures of menswear and art exhibits to ogle, videos of his musical side-project, Childish Gambino, and some serious food porn. And every once in a while, Don will wax philosophical via blog post: "I'm not gonna be the rapper who's smooth or powerful. I know that. I'm the rapper referencing Breaking Bad to a girl I met outside after my asthma started acting up because of all the smoke inside the bar. I really think there are a bunch of kids like that out there. I hope those kids like my stuff. Also, who knows what they are all the time? I'm different stuff every second of every day. I don't know why people confine themselves. I know it would be easier if I just did funny stuff, or just music, or just writing, but I'm more than that. That's not me. That's not anyone. Everyone is everything, if they let themselves."
Dianna Agron (FellDownTheRabbitHole.Tumblr.com)
The actress, who plays Cheerio-turned-lovable-preggo-show-choir-gal Quinn Fabray on Glee, hasn't updated her Tumblr in a while, from the looks of things. But what she has posted—mostly elegant fashion and black-and-white photography and images of Pittsburgh set against a refreshingly minimalist background—is worth browsing. Also, she loves "Dance Yrself Clean" as much as we do.
Dave Holmes (DaveHolmes.Tumblr.com)
Part of what's so appealing about the Tumblr of the former MTV VJ is that he and we have many of the same fleeting thoughts about pop culture throughout the day, but Holmes actually writes them down. Like, how do words like "butthurt" go viral or how terrifying would a Snooki recovery memoir be? Combine this with some great music and brief-but-potent one-liners on current events and you've got a Tumblr that will keep you more entertained than the cover you are now designing in your head for Snooki's recovery memoir.
Nick Kroll (NickKroll.Tumblr.com)
Comedian Nick Kroll is mostly-business with his Tumblr, but his business is making you LOL, and you most definitely will with the videos he posts featuring his characters like Fabrice Fabrice. But the best part of Kroll's blog may be the amusing photo/one-liner juxtapositions throughout, like this.
Kelly Oxford (KellyOxford.Tumblr.com)
We think Kelly Oxford's celebrity status will only grow in the days to come with her rapidly-growing Tumblr following. Not only is she very funny, but she keeps her blog varied and visually interesting, from brilliant juxtapositions to awesome, awkward anecdotes. Plus, she's one of the few people on the entire internet that we know of who can blog about funny things her spouse and/or kids say without it coming off as totally insufferable. Start taking notes, Facebook friends.
John Mayer (JhnMyr.Tumblr.com)
Love or hate Mr. Mayer, it was impossible not to include the singer-songwriter on our list, seeing as he's one of Tumblr's biggest proponents, even calling his blog "One Forty Plus," as if to say it's a more enriching experience than the 140 characters allowed on Twitter. Mayer's Tumblr contributions include advice on recycling your beer bottles, pictures of his new line of Sillybandz and surprisingly thoughtful musings, including an interesting response to Leslie Knope's advice to "Stay away from John Mayer."
John Legend (Blog.JohnLegend.com)
The singer hasn't updated his blog in a while, but John Legend was worth noting as one of the first and highest-profile artists to use Tumblr for their tour blog. And also, how many Tumblrers do you know of who can post pictures of themselves muggin' with the President of the United States? Let's see Julia Allison or the Hipster Puppies do that!
Joseph Gordon-Levitt (HitRecordJoe.Tumblr.com)
Actor Joseph Gordon-Levitt mostly uses his Tumblr to highlight projects from his hitRECord creative community, which alone is enough reason to ogle the blog. It's a great place to go to to get inspired, between the innovative hitRECord endeavors being showcased and JGL's postings of famous words of wisdom.
Colin Meloy (ColinMeloy.Tumblr.com)
Back in May, The Decemberists frontman used his blog to launch into a discourse with fans about leaking new songs through audio and video of live performances and whether or not it affected fans' reception of the album.
Ra Ra Riot (RaRaRiot.Tumblr.com)
On their aesthetically-pleasing web space, chamber-pop upstarts Ra Ra Riot interact with fans and occasionally, will even post totally rad fan-made flyers. In between informational bits about tours and new music videos, Ra Ra Riot gives us little hints as to the future of band-fan online interaction.
Jenny Owen Youngs (JennyOwenYoungs.Tumblr.com)
Pictures. Of. Bunnies. We rest our case.
James Urbaniak (JamesUrbaniak.Tumblr.com)
Fiercely witty, politically biting, a bit nerdy and occasionally totally bizarre sort of attributes you'd expect from a blog by Venture Brothers' star.
Ingrid Michaelson (IngridMichaelson.Tumblr.com)
Lots of good music. Lots of pictures of cute kids and puppies. Moments of nostalgia and showing affection for the fans. It's a little twee, a little wit, a little attitude—all things that most of our beloved Tumblrers possess, really.
Rob Delaney (RobDelaney.Tumblr.com)
Rob Delaney is one of the most hilarious up-and-coming comedians around. We love him on Twitter, whether he's taking on former vice presidential candidates or musing about bodily functions. His Tumblr features all the catch-you-off-guard humor of both his Twitter and IRL standup, but with the added bonus of sound and vision. He's also a pretty heavy reblogger, but he chooses his rebloggings rather well, so we get gems like this all the time.
Paul Scheer (PaulScheer.Tumblr.com)
The Human Giant comedy veteran's "About Me" section says it all: "When I'm not robbing banks with surfers who dress like ex-Presidents to fund our trips…" We'll let his blog speak for itself.
The gallery below features a screenshot of each of the Tumblrs mentioned above. Please enjoy.
Others Tagged With