Eight Housewives Who Would Make Kick-Ass Superheroes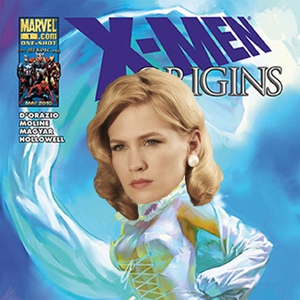 According to Variety, Mad Men's January Jones is slated to play Emma Frost in the Matthew Vaughn-directed X-Men Origins: First Class. We can't think of anything as satisfying as seeing the unhappy, mistreated Betty Draper finally go mutant and kick some villainous butt. That got us thinking about other frustrated housewives we'd like to see transformed into Marvel demigods, finally muscled-up and ready to take their fate into their own Kung Fu-fighting hands. Thus we've drawn from the far corners of both desperate housewifery and comic book ladydom to show what would happen if only Bree Hodge could fly and Marge Simpson had a lasso of truth. Click through the gallery below to see what we've come up with.
8. Housewife: June Cleaver
Superhero Doppelganger: Miss America
Add iconic apron-wearer June Cleaver to Marvel heiress/crime fighter Miss America and you get patriotism, pep and enough superhuman strength to finally get the monkey-smell out of Beaver's shirt.
7. Housewife: Lois Griffin
Superhero Doppelganger: Princess Leia
The fine minds over at Family Guy HQ already cast Lois in the role of the Star Wars princess, but we thought this excellent pairing deserved a second mention.
6. Housewife: Bree Van de Kamp/Hodge
Superhero Doppelganger: Jean Grey-Summers/Dark Phoenix
It's far too easy to imagine Wisteria Lane's most neurotic housewife plunging headfirst off the sanity high-dive and casually obliterating a distant galaxy.
5. Housewife: Ruth Fisher
Superhero Doppelganger: Rampage
Dr. Kitty Faulkner only ever wanted to find a pollution-free energy source. Six Feet Under's Ruth Fisher only ever wanted to communicate with her children. Kitty ended up eight feet tall and orange. Ruth ended up six feet under and, well, color doesn't matter. Moral: It's a cruel, cruel world, and these ladies pair well.
4. Housewife: Marge Simpson
Superhero Doppelganger: Wonder Woman
Blue-haired, suburban, pearl-wearing Marge is a class-A example of the all-American gal—no one could embody the Justice League's feminist prototype better.
3. Housewife: Lucille Ball
Superhero Doppelganger: Black Canary
This Flash Comics/Justice League heroine is known for her "Canary Cry," a painfully high-pitched scream that can shatter thick-rimmed glasses and bad-guy self-confidence. We think Lucy would be perfect for this role.
2. Housewife: Sylvia Plath
Superhero Doppelganger: Mystique
Nothing says "Bite me, Ted" better than turning blue, falling for a psychic chick and forming a Brotherhood of Evil Mutants.
1. Housewife: Lucille Bluth
Superhero Doppelganger: Bride of Venom
We're betting that a symbiote could easily possess the meanest matriarch in Bluthdom: The woman doesn't typically have anything in her system except vodka and an estrogen pill—and if she goes off the postpartum medication again, Lord help us all.
Others Tagged With