The Roots' 10 Best Moments On Late Night With Jimmy Fallon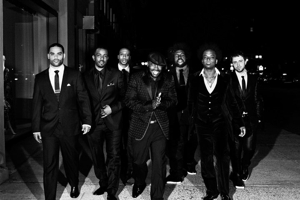 Page 1 of 2
Jimmy Fallon has come a long way since his grinning-and-glancing-off-camera days on Saturday Night Live. His late-night talk show took Conan O'Brien's slot, and he's had a slew of excellent guests in its nearly 300 episodes.
He's taken on many a guest in beer pong, made some dance while suspended in mid-air, and even challenged Chelsea Handler to a martini race. That last one, unsurprisingly, didn't end so well for Fallon; he slipped and cut his hand on a broken martini glass. The next day, though, his house band, Philadelphia's legendary hip-hop group The Roots, performed with bandages on their hands in solidarity. That's only one of the many reasons why The Roots are consistently one of the best parts of his show. Here, we share with you some of our other favorite Late Night moments that feature the band.
The Roots Play "Out of the Blues" With Julian Casablancas
Often, artists bring their own bands to perform with on Late Night, but not Casablancas.
The Roots Play "Straight Outta Compton" With Ice Cube
This moment, unfortunately, didn't air live; it was just a warm-up (which makes sense, when you consider the lyrics). However, it is still awesome to watch Ice Cube and The Roots kill it.
Remix The Clips
Whoopi Goldberg, Sarah Palin and a goat walk into a bar… In this segment, The Roots' drummer ?uestlove takes three unrelated YouTube clips and remixes them to a sick beat. The result is nothing short of hilarious.
The Roots Play With Eminem
Not too long ago Eminem performed his new song "Won't Back Down" with The Roots. The horns, drum beat, guitar licks and background vocals fit the stylish, soulful group to a tee.
Others Tagged With