7 Great Non-musical Moments From Hall Of Fame Nominee Tom Waits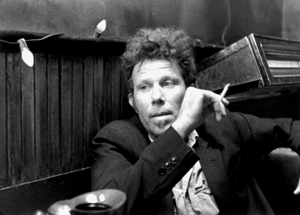 Tom Waits has finally been nominated to the Rock & Roll Hall of Fame. Paste's top 5 songwriter certainly deserves induction for his long string of brilliant explorations of the underbelly of the human psyche and society in general. He's also turned in some great turns on the big screen. Here are 7 of our favorite non-musical moments from the musical legend.
1. Coffee and Cigarettes
Waits has long been a staple of Jim Jarmusch's films. His appearance in Coffee and Cigarettes is perhaps his funniest and helped win the original short (which was later included in the feature film) a Short Film Palme d'Or at Cannes.
2. Short Cuts
Waits displayed his acting chops in Short Cuts, Robert Altman's film inspired by Raymond Carver short stories. It is one of Altman's overlooked classics, thanks in no small part to Waits and Lily Tomlin. Do yourself a favor and rent this.
3. The Fisher King
Waits makes a memorable cameo in Terry Gilliam's wonderful, if a bit messy, film.
4. Mystery Men
Waits as scientist Dr. Heller was a perfect addition to the cast of wannabe superheroes. Too bad this scene was deleted:
5. Down By Law
In this 1986 Jarmusch film, Waits play a disc jockey wrongly incarcerated and locked up with a wrongfully incarcerated pimp (John Lurie) and a manslaughtering Italian tourist who barely undersands English (Roberto Benigni). Need we say more?
6. Wristcutters: A Love Story
In this indie film from 2007, Waits is a definite highlight as an eccentric leader of an after-life commune where strange and fantastic happenings are commonplace. (Unfortunately, the best clips aren't online, but Lionsgate has made the entire film available on YouTube.)
7. Tom Waits reads Charles Bukowski
Bukowski's emphasis on relationships, alcohol and the lives of the poor is a good fit for Waits. Below, watch the singer read "The Laughing Heart."
Bonus: "Way Down in the Hole"
While this is most definitely a musical moment, fans of The Wire will appreciate it.
Others Tagged With