Five Goner Records Gateway Bands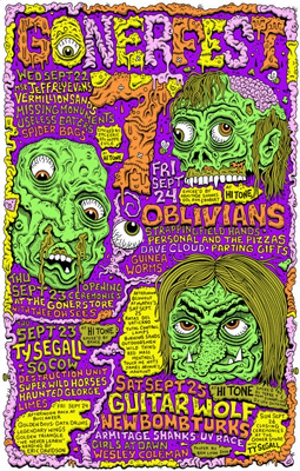 It's the penultimate day of Gonerfest 2010, the seventh garage-rock extravaganza put on annually by Goner Records in Memphis, Tenn. With yet another stacked lineup (pictured) this year, a legendary discography and an actual brick-and-mortar record store in Memphis, Goner can be a little daunting to the uninitiated, which is where the five acts below come in. Sample each to get an idea of the excellent and oft-scrappy rock 'n' roll Goner purveys, then dig further if the spirit moves you. There's plenty to love.
Magic Kids
There's a record nerd somewhere right now, reading this, pushing up his record-nerd glasses, and saying, "Um, the band only put out one 7-inch on Goner and their full-length debut was actually released earlier this year on True Panther Sounds." The nerd is right, and that full-lenth debut, Memphis, is a mighty thing to behold, all infectious melodies and obsessive, Pet Sounds-esque orchestration. And yet! Goner was there first. Listen to the abovementioned single, "Hey Boy," below, to find out why Paste declared Magic Kids the Best of What's Next.
Jay Reatard
Inarguably one of Goner's finest claims to fame is introducing the music world to the late Jimmy Lee Lindsey, Jr. (AKA: Jay Reatard). In addition to pressing records by multiple early bands including Lindsey, Goner released a couple of the very best 7-inches released under the Jay Reatard moniker. You can watch Lindsey play his first, the incendiary "Hammer I Miss You," live at the Goner store in 2007, below. It's scary to think how much more this man could've done had he lived into his thirties.
Ty Segall
A one-man wrecking crew, Ty Segall dabbles in myriad styles, something Paste writer Evan Minsker found especially prominent across Segall's latest, Melted: "On [the album], he messes with a number of styles and sounds (grunge, garage, psych and pop), but tempers his frenzy on lead single 'Caesar,' which finds him playing an acoustic guitar and slowing down the tempo a bit." Ridiculously prolific, if you've yet to sample any of his previous eleventy billion releases, fret not; he likely put the finishing touches on a new one in the time it took to write this paragraph. Listen to Segall's "Caesar" here.
Carbonas
Atlanta's KBD-worshipping punk icons have some harder to find stuff, but their self-titled effort on Goner is widely available and perhaps their most accessible record to boot. The band that spawned Gentleman Jesse and GG King is sadly now defunct, but their excellent songs live on. Watch them perform at Gonerfest 2 below:
Nobunny
This filthy, masked-rabbit character played by Justin Champlin actually made his Goner debut just this past week with an enjoyable romp of a record called First Blood. The follow-up to his Ramones-obsessed debut, Love Visions (1-2-3-4 Go! Records), First Blood might be the first album ever to pay homage to Green Day, the Velvet Underground and Neil Young in the space of a few songs. Listen to Nobunny's "I Am a Girlfriend" below:
Others Tagged With