8 Awesome Lip-Sync Scenes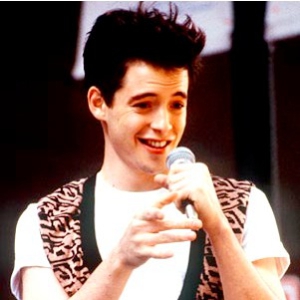 Sad but true: Not all of us are blessed with great pipes. If the sound of your singing induces ear-bleeding (or if you're pretty much any contemporary pop star), you're left to rely on pre-recorded tunes whenever you feel like breaking into song.
Thus, we bring you the eight best lip-syncing scenes. If you feel like getting especially meta, go ahead and mouth the words while you check out the following clips:
8. The Boat That Rocked: Simon's going through some stuff

This movie, re-named Pirate Radio for its American release, was a pretty big flop on this side of the pond. Could it be because this lip-sync was cut from the Yankee verison? Here we find Simon (Chris O'Dowd) singing Lorraine Ellison's "Stay With Me" after splitting with his wife (January Jones) after 17 hours of marriage. Don't sweat it, Simon: sometimes you just gotta crank up the tunes and have yourself a good cry.
7. Dirty Dancing: How do you call your lover boy?

This famous scene features Baby (Jennifer Grey) and Johnny (Patrick Swayze) lip-syncing "Love is Strange" by Mickey and Sylvia as they get grope-y with each other. The story goes that Grey and Swayze were just messing around in between takes, and director Emile Ardolino was able to catch it on film. Oh Swayze, you horndog.
6. The Cosby Show: Rudy does Ray Charles

The Huxtables took the lip-sync game to another level when they added choreography and adorable children to the mix. Proving that few things are funnier than big voices coming out of tiny people, Rudy mimes the Margie Hendricks part on "Night Time is the Right Time" before Cliff brings it home with some truly inspired facial expressions. So effective, they did another one the following season.
5. Blue Velvet: Dean Stockwell's creepy cameo

Leave it to David Lynch to take a typically-silly activity like lip-syncing and turn it into a total creepfest. Here we see PBR-loving sociopath Frank Booth (Dennis Hopper) and his buddy Ben (Dean Stockwell) mouthing the words to Roy Orbison's "In Dreams." Immediately after this clip ends, Frank takes Jeffrey (Kyle Maclachlan) to a lumber yard and beats him unconscious. Yikes. And we mean that in the best possible way, Mr. Lynch.
4. The Fresh Prince of Bel-Air: Will goes all diva on Uncle Phil
*
Will Smith gets an A for effort on this one: he tears into Jennifer Holliday's version of "And I Am Telling You (I'm Not Going)" full force. Every breath is accounted for here, an impressive feat to say the least. Somebody give this man an Oscar already.
3. Reservoir Dogs: The torture scene

Just because you're a sadist doesn't mean you can't have good taste in music. Here we see Mr. Blonde (Michael Madsen) dancing and lip-syncing (OK, he's singing along, but we bend the rules for razor-wielding psychopaths) to "Stuck in the Middle with You" by Stealers Wheel as he tortures a cop. Warning: if you don't like severed ears, proceed with caution.
2. Ferris Bueller's Day Off: Ferris hijacks a parade float

We'd be fools if we didn't include this iconic scene from a John Hughes classic. While his friends freak out about their futures, Ferris (Matthew Broderick) hops atop a parade float and leads the city of Chicago in a rousing rendition of "Twist and Shout." Businessmen shake it in their offices, girls lift up their skirts and a bunch of people appear out of nowhere to do the "Thriller" dance. Best Von Steuben Day ever!
1. Pretty in Pink: Duckie tries a little tenderness

Our number one pick also comes courtesy of John Hughes, and it's the granddaddy of all on-screen lip syncs. The song fits perfectly with the movie's plot — Duckie (Jon Cryer) would give anything to "squeeze her, don't tease her, never leave her," and he chooses to express his unrequited love through the majesty of Otis Redding. The pained expressions, the fist pumps, the pelvic thrusts and the coolest mustard-yellow-blazer-and-bolo-tie ensemble ever all add up to make a fantastic scene, leaving us with one of pop culture's greatest mysteries: How could Andie have possibly chosen Blane, the kid with a name like a major appliance and a personality as enthralling as dry toast, over The Duckman?
Others Tagged With