The 10 Best Jane Lynch Moments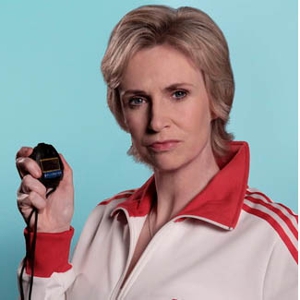 Jane Lynch's acting career began with a Frosted Flakes commercial. Promoting Tony the Tiger probably seemed insignificant at the time, but the actress' snarky demeanor caught the attention of mockumentary filmmaker Christopher Guest, whose 2000 (Best in Show), 2003 (A Mighty Wind) and 2006 (For Your Consideration) films all starred the Illinois-bred comedienne.
That same sardonic temperament landed Lynch her most celebrated role yet: Sue Sylvester, the contemptible high school cheerleading coach on the hit Fox drama Glee. Even though the show premiered last year, the actress' performance has already earned her an Emmy nomination for supporting actress in a comedy series and plenty of worldwide recognition. The choir club drama's second season is set to premiere Sept. 21 and, shortly thereafter, Lynch will join the ranks of Neil Patrick Harris, Steve Carrell and Betty White when she hosts Saturday Night Live Oct. 9. According to Movieline.com, the seemingly fearless, bad-to-the-bone star is "scared to death" about appearing on the late-night series. "I love sketch, but I've been doing TV a long time now, and you get to have 'take two,'" she says. "Not on Saturday Night Live! You get 'take one' and that's it, baby."
Despite the understandable pressure, we're pretty sure she's going to kick ass. We've even rounded up 10 of our favorite scenes from Glee, the short-lived Starz series Party Down, 2008's Role Models, The 40-Year-Old Virgin, A Mighty Wind, and Best in Show to prove Lynch's comedic genius and hopefully induce a few haha's.
Role Models: Eating cocaine for breakfast
No one could have played the role of former drug addict/big brother program founder in David Wain's comedy better than Jane Lynch. In this scene, she sticks it to Danny Donahue (Paul Rudd) and Anson Wheeler (Seann William Scott) who are both attempting to rack up community service hours to avoid going to jail.

Glee: I don't trust a man with curly hair
The bickering between glee club director Will Schuester and Sue Sylvester is classic. Most of the time, it's unclear why Lynch's character is so mean to the poor guy, but apparently, it's the hair.

Party Down: This little piggy's goin' to market
Two seasons of this show really wasn't enough. But, then again, it wasn't really the same after Lynch bailed on the second. In this particular scene, her character, Constance, thinks she's auditioning for a live action Old McDonald film. Pretty hilarious if you're in the moooood.

Glee: Punch you in the face
What'd I tell you? Classic, right?

A Mighty Wind: WINC
The second Guest film to star Lynch is about a folk band reunion concert that takes place after longtime producer Irving Steinbloom passes away. Lynch plays a singer in the band Main Street Singers who is also co-founder of Witches in Nature's Colors (WINC). They worship color.

Glee: Getting "Physical" with Olivia Newton-John
The Olivia Newton-John/Sue Sylvester rendition of the former Grease star's hit really isn't as weird as it may sound initially. See the jazzercised Gleetasticness for yourself.

Party Down: Hooker
When the caterers/aspiring actors on Party Down actually get a role in a film or television series, it's a really big deal. So when Constance has a line in a series called Baretta, she has to brag about it. Too bad it was, "Lookin's free. Touchin'll cost ya," and the character's name was Hooker.

Party Down: A leg made footless by pot
What does smoking pot have to do with losing a foot? A whole lot, apparently.

Best in Show: Family dynamic
When it comes to Christy Cummings (Lynch) and Sherri Ann (Jennifer Coolidge)'s relationship (and dog-parenting skills), traditional family dynamics still apply. Even though Cummings takes on the role of disciplinarian, she at least attempts to encourage her partner's extension of unconditional love. Well, until that line at the end of the scene, anyway.

The 40 Year Old Virgin: I might have a solution for you
Having your boss ask you if you'd like to be "special friends" is awkward. Especially when your boss is played by Jane Lynch and she starts serenading you in Spanish.

Others Tagged With