13 Fantastic Band Websites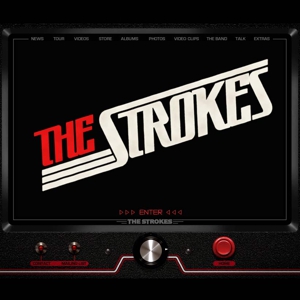 Music and all the art surrounding it remain bastions of nearly unrestricted creativity. Albums, posters, and in this case, website designs go in virtually any direction thanks to a large emphasis on personal expression. Designers and developers can create some amazing work when they don't have a large corporation relentlessly reaffirming the position that everything should adhere to cautious standards—and basically, stay boring.
The following band websites sites are anything but boring. Music can be an interactive medium, and what better place to showcase that interactivity than the Internet, where interaction reigns. These sites showcase some grand design, programming, and of course, focus on the music.
1. The Strokes
The new album finally got a release date, so it's only fitting we include the beloved indie-rockers' Flash-developed site. The Strokes offer lots of extras like avatars and detailed guitar tabs for most songs (though they require a small fee). Even the transitions between pages are fun as red wireframes give a sketch of the page objects that are are then filled in with color—futuristic, but still somehow representative of the band's sound. Perhaps it's the red and black colors.
2. She & Him
The site for Zooey Deschanel and M. Ward is as adorable as their music. The yellow and black polkadotted theme matches their sound's retro feel. Plus, Volume 2 is available for streaming—just click on the vinyl record (you weren't expecting a CD, were you?).
3. MGMT
MGMT is another band embracing the web 2.0 generation, allowing users to upload their own art. If you navigate to the Art section of the site and hover over a thumbnail of a submission, the background of the site changes to said submission. The header never stops cycling through user-submitted MGMT logos.
4. The Kills
If you stick around the site long enough, and click on links often enough, you'll eventually enter territory that's mysterious (part of the URL is called "mystery spot," after all) but interesting. We won't spoil it, but if you like photographs of incoherent journal entries, you'll be in heaven.
5. The Decemberists
The Decemberists use a trendy sketchbook feel that's run rampant over the last few years, but it's the extra content that truly delivers a great user experience. You want Colin Meloy singing Shirley Colins? You got it.
6. Broken Bells
Last year's debut collaboration between the ubiquitous Danger Mouse and The Shins' frontman James Mercer received a fair amount of applause and a respectable rating from us. The website created to promote the band parallels Broken Bells' surreal, abstract themes. Users can interact with the album covers' iconic pointy pink orb. They can rotate, click and watch it pulse in rhythm with the background music while it hovers in space, orbited by a bunch of other clickable planetary objects that represent and play a song from the album. It's trippy. It's cool.
7. Nine Inch Nails
50,000 photos and videos. Yes, 50,000. Plus a NIN app for iPhone and iPod Touch and a completely customizable individual user presence. Don't really need to say more than that.
8. Vampire Weekend
Well, the guys over at Vampire Weekend are still using the cover art that got them sued, but in a pretty neat way. The developers turned the cover art into a huge interactive image, which users can grab and pull, which navigates to different portions of the image where lyrics for each song on Contra are found.
9. LCD Soundsystem
Not surprising at all that LCD Soundsystem's James Murphy's site contains a bunch of humor. You'd think music basic on technology would have a technological theme, but the LCD site has sketched icons for links and uses a typewriter font. Tour dates are labeled "standing in front of people doing things loudly," while the icon that lets users sign up for the newsletter is labeled "register here for spam." Oh, and make sure you check out the video blog entries from Jay Green – hilarious.
10. Radiohead
This was posted in Kasia Pilat's List of the Day pertaining to movie and music superlatives, but Radiohead's site is too cool to ignore. The band throws a bunch of extras into the site, allowing users to invest tons of time exploring and trying to find out just what the hell this means (if anything at all).
11. Belle & Sebastian
For one reason alone, Belle & Sebastian's site appears on this list: They have an extensive Q&A section where fans can submit questions and almost always get them answered. Rather than relying on Facebook and Twitter, which limit the number of characters, Belle & Sebastian allow for in-depth answers. The Q&A section is even separated into categories like Tour, Our Music and War / Politics / Religion / Beliefs. They have no problem revealing personal details and offering advice to anonymous fans (e.g. Stuart answers a question from a fellow chronic-fatigue sufferer with inspirational advice on how to cope with the condition). We wish more bands would ingratiate their fans to such an extent.
12. The Killers
The band may be on hiatus, but its website is alive and well. Completely Flash-driven, the homepage shows a few objects like RVs and a mini gift shop in a (we're guessing Nevada) desert which take users to different sections of the site. Especially noteworthy is the Tour page that shows dots dispersing all over the world from a starting point in North America. You can then zoom in or out on different sections of the world map and hover over a dot to see the location and date of the show it represents. The Killers have been to a lot of places.
13. Sonata Arctica
While Sonata Arctica isn't exactly a household name, the band's site will have you believing otherwise. Good use of Photoshop work gives it an ominous-but-still-hopeful feel, but the real appeal is the extras. They have collector's info, old tour dates, tabs, a collection of MP3s, and even nine Winamp skins.
Others Tagged With