11 Streaming Concerts Worth a Virtual Lighter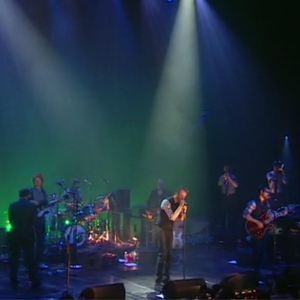 The internet is a vast, amazing place for a seemingly infinite number) of reasons, including the ability to be transported somewhere else, almost immediately, and watch a performance you otherwise never would have had the chance to see. To put it more succinctly: Thank God for streaming concerts.
Most TV stations don't even bother running concerts, let alone good ones. When was the last time you stumbled across someone like Iron & Wine on basic cable?
High-quality streaming concerts aren't always the easiest thing to find but thankfully, many outlets are realizing more people are spending less time watching television and relying on instead on an internet connection to satisfy their media fix.
So, in no particular order, here are 10 incredible streaming concerts from a variety of sites. Make sure you view as soon as possible, because streaming media doesn't always remain available for long.
Oh, and of course, if you have any recommendations, make sure to leave them in the comments. Like I said, the internet is a seemingly infinite place, so there's no chance we found every great concert.
1. Iron & Wine | NPR Music | Running time: 1 hour, 11 minutes.
Sam Beam, former film professor and current lead singer, guitarist, and songwriter of Iron & Wine, has steadily increased his notoriety over the last decade or so, and that trajectory looks to be continuing now that he's invited an entire band on his upcoming album, Kiss Each Other Clean.
His whispery vocals have strengthened without losing the breathy uniqueness—something that's definitely noticeable in the performance below, in which he and the band play a slew of new tracks, complete with an oboe, some hand shakers, and Beam displaying a louder, but no less affecting crystallized falsetto.
2. Monsters of Folk | Austin City Limits | Running time: 55 minutes
The longstanding and critically acclaimed Austin City Limits recently featured Monsters of Folk, the supergroup consisting of Jim James from My Morning Jacket, Conor Oberst and Mike Mogis from Bright Eyes, and M. Ward from She & Him. PBS.org has the entire concert streaming commercial-free (except for one minute of introductory ads).
Especially noteworthy is each members' ability to swiftly switch seemlessly from guitar to bass to piano. Plus, you can see the newest member, Will Johnson of Centro-matic, playing drums and one of his songs on guitar.
3. Tapes n' Tapes | Mezzazine via wolfgangsvault.com | Running time: 53 minutes
An introduction from David Cross then the song "Just Drums"? I wouldn't expect anything less from Tapes 'n Tapes, a band with an inclination to switch tempos, genres, and structures at the drop of a… tape.
After picking up a ton of credibility from bloggers, Tapes 'n Tapes took their indie, experimental rock to Letterman and other high-profile scenes, including Coachella, where their live performances kept gaining more attention for the band's ability to change speed.
4. Jónsi | 9:30 Club via NPR.org | Running time: 1 hour, 29 minutes
For a while now, fans of Sigur Rós have embraced the spectacular display of lights and sound that emanate from every concert. Lead singer Jónsi has taken that same approach for his solo concerts, a fantastic display of his experimental Icelandic chamber rock as well as a set that genuinely looks like another setting entirely.
Jónsi's voice has always been his calling card, and he plays that card marvelously in this performance in Washington D.C. It's too bad NPR took down the streaming video, because the audio doesn't do the visuals justice. They still show some photos from the concert, so you can at least get a taste of seeing him live. But just letting his falsetto ring is more than enough to marvel.
5. Freelance Whales | Daytrotter Studio via wolfgangsvault.com | Running time: 18 minutes, 12 seconds
Newcomers Freelance Whales released a fantastic debut this year with Weathervanes, a loose concept album about befriending a ghost. Sounds creepy, but the songs are warm, accessible, and at times, very pretty. Fans of Sufjan Stevens will immediately become enamored with the band's blend of electronica and folk, which is slightly altered in the above concert.
In some songs, an electric guitar is used in place of the record's acoustic sound, but the songs still work extremely well. Plus, it's always nice to see a band trying something different instead of replicating the songs from the album.
6. Sharon Van Etten | NPR Music | Running time: 15 minutes, 28 seconds
Sharon Van Etten's Epic was easily one of the most overlooked albums of last year. Her gorgeous, slightly flawed voice only adds to the momentous flawed relationships she writes about. It's sad stuff, but it's no less beautiful.
Granted, the concert's only 15 minutes, but there's no way we could leave her off this list. If you're yearning for more Etten, you can also check out about an hour-long concert of hers at WNYC.org, although no songs from Epic appear on the set list. However, the songs are dark and angry, though with a reserved tension that seems like she's sitting quietly, stirring, and slowly fading from view.
7. Spoon | Austin City Limits | Running time: 54 minutes
Spoon caught everyone's attention with their album A Series of Sneaks in '98, although it wasn't until "The Way We Get By" off Kill The Moonlight that the public started paying attention to the Britt Daniel-lead group.
As the band ventured further into the deconstructionist, experimental-yet-somehow-accessible pop-rock, a mass of fans have become enamored with the angled guitars, Daniel's wide-mouthed delivery, and structures that sometimes seem to crumble only to reconnect, and an inescapable energy.
8. John Legend and The Roots | Austin City Limits | Running time: 57 minutes
Accepting a spot on Late Night With Jimmy Fallon, hasn't stopped The Roots from creating wonderful music on their own time.
Their neo-soul, hip-hop sound has gained them Grammy awards, and their most recent release How I Got Over was chosen for a multitude of Best Albums of the Year lists (including Paste's).
Legend, formerly known as John Stephens, has received six Grammys and the Starlight award from the Songwriters Hall of Fame. His piano playing is as unmistakable as his voice. Collaborating with The Roots only adds to each's sophisticated blend of soul, hip-hop, and R&B.
9. Lost In The Trees | Mountain Stage via NPR.org | Running time: 23 minutes, 25 seconds
Chamber folk group Lost In The Trees, lead by Ari Picker, has a deeply haunting sound, influenced by some traumatic experiences in Picker's life.
NPR.org says the "seven-member group is a small orchestra within itself, playing textural, evocative songs with an accordion, French horn, tuba, violin and two cellos." All of that is included in the above concert, a sound far different from most anything else happening in music right now. Lost In The Trees has introduced the value of baroque music to the masses.
10. Amos Lee | XPN via NPR.org | Running time: 40 miutes, 43 seconds
Amos Lee's English degree got him an elementary-school-teaching gig. His songwriting got him a gig touring with Norah Jones. Take a guess which career he's still pursuing (hint: there's a concert link above).
Lee's rare blend of folk, soul, and even jazz has gained him a large following, especially after the release of his eponymous debut album. The concert isn't exactly a mosh-pit fest, but his voice and delivery will make it seem like superglue is stuck to your chair.
11. The National | Bonnaroo Music Festival via NPR.org | Running time: 1 hour, 30 minutes
The National have been around a while, but it's only recently that most music fans have taken notice. Their recent release, High Violet, hit No. 3 on the Billboard charts—the highest spot of their career.
In this performance, Matt Berninger's vocals are just as resonant and affecting as always, and the two sets of brothers (Aaron and Bryce Dessner; Scott and Bryan Devendorf) as well as a horn section that has been playing with them off-and-on for many of their tour locations, are ridiculously precise, tight, and unwavering.
Their relentless decade of touring has obviously paid off.