Nine Offbeat, Unlikely, Or Simply Awesome Song Mashups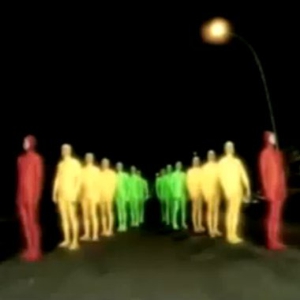 Since the dawn of the DJ, mashups have become an increasing part of music culture. Artists like Gregg "Girl Talk" Gillis have popularized the party mix mashup, throwing together song upon songs to create full albums worth of mashed up material. And full mashup albums like Danger Mouse's The Grey Album, a mix between The Beatles' The White Album and Jay-Z's The Black Album, have proven surprisingly cohesive.
Often, the best mashups are the most surprising. Two songs with nothing in common come together to form a new something great. We picked several of our favorite offbeat, unlikely, or just plain awesome mashups.
1. The Beatles vs LCD Soundsystem vs The Kinks – Mashup by FAROFF
The Songs:
Get Back – The Beatles
Daft Punk is Playing at My House – LCD Soundsystem
You Really Got Me – The Kinks
2. One More Time To Pretend – Immuzikation
The Songs:
One More Time – Daft Punk
Time To Pretend – MGMT
3. Scott Pilgrim "Threshold 8 Bit" vs. Ludacris "How Low" – by Mike Relm
The Songs:
Threshold 8 Bit – Brian LeBarton
How Low – Ludacris
4. Journey to Paris – The Reborn Identity
The Songs:
Paris (Aeroplane Remix) – Friendly Fires
Don't Stop Believin' – Journey
5. Another Spot in the Sun, Part 2 – Totom
The Songs:
Another Brick In The Wall, Part 2 – Pink Floyd
Sunspots – Nine Inch Nails
6. Thats Not My Name Vs Voodoo People Mash Up Remix – 355198496
The Songs:
That's Not My Name – The Ting Tings
Voodoo People – The Prodigy
7. Giving Up the Alp – Immuzikation
The Songs:
Ambling Alp – Yeasayer
Giving Up The Gun – Vampire Weekend
Vampire Weekend and Yeasayer – Giving Up the Alp (Immuzikation Blend) from Immuzikation on Vimeo.
8. You Humped Me All Night Long – DJ Mei-Lwun
The Songs:
You Shook Me All Night Long – AC/DC
My Humps – The Black Eyed Peas
9. Joined At The Soul [Leftfield vs Yann Tiersen vs Dub Fx vs Portishead vs Bernard Herrmann] – FREEAR
The Songs:
Inspection (Check One) [Freear re-edit] – Leftfield
Comptine d'un autre ete – Yann Tiersen
Flow – Dub FX
Roads – Portishead
Twisted Nerve – Bernard Herrmann
FREEAR -'Joined At The Soul' [Leftfield vs Yann Tiersen vs Dub Fx vs Portishead vs Bernard Herrmann] by .FREEAR
Others Tagged With