Ten '00s Acts That Should Make Music Again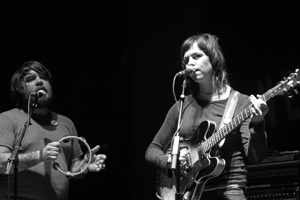 In mid-January, word came from pretty much out of nowhere that Canadian rock duo Death From Above 1979 was reuniting, and in a very big way—via Coachella's 2011 lineup poster. Not a bad kick-off gig! A couple weeks later, vocalist/drummer Sebastian Grainger released an exuberant statement indicating that future shows were very much a possibility. Late Sunday night, it was revealed that DFA 1979 will be performing at Sasquatch 2011 as well. The band has dates in London and Austria in May, and anyone who's watched the ridiculous hype cycle of a band's forthcoming album unfold via the music blogosphere understands that, at this point, a proper tour announcement is coming, even if an album isn't.
But perhaps the more interesting thing to think about here is how a band that formed in 2001, released one notable album in 2004 and disbanded in 2006, is causing such a stir with the announcement of its reunion. DFA 1979 is hardly a classic act giving it another go, like The Stooges, Pavement, Guided by Voices, or even The Dismemberment Plan, but the band is striking a weird, nostalgic-for-the-recent-past chord with people of a certain age and demographic. And those people, your humble correspondent included, are excited about this reunion.
Which got us thinking: Are there other quality acts that started releasing music since 2000, and have, for whatever reason, stopped making music, and should start doing so again? Why yes, yes there are…
---
LCD Soundsystem
Formed/First Release: "Losing My Edge" single, 2002
Disbanding: April 2, 2011 :-(
Buy This Now: 2010's This is Happening
Silver Lining: Considering the band hasn't played its final show yet, it's too early to call. But knowing James Murphy, he'll no doubt find a worthy new project to work on soon.
Why They Should Come Back:
"Losing My Edge"

---
The Dutchess and the Duke
Formed/First Release: "Reservoir Park" single, 2007
Disbanded: October 2010
Buy This Now: 2008's She's the Dutchess, He's the Duke
Silver Lining: Nothing yet.
Why They Should Come Back:
"Reservoir Park"

---
Mclusky
Formed/First Release: 1996; "Joy" single, 2000
Disbanded: January 2005
Buy This Now: 2002's Mclusky Do Dallas
Silver Lining: Two of Mclusky's members formed Future of the Left in mid-2005. The band's third album is in its early stages.
Why They Should Come Back:
"To Hell With Good Intentions"

---
Desaparecidos
Formed/First Release: "The Happiest Place on Earth" single, 2001
Disbanded: 2002 (The band played a one-off reunion in 2010.)
Buy This Now: 2002's Read Music/Speak Spanish
Silver Lining: Conor Oberst has another band or two to keep him busy.
Why They Should Come Back:
"Mall of America"

---
The Everybodyfields
Formed/First Release: Halfway There: Electricity and the South, 2004
Disbanded: June 2009
Buy This Now: 2007's Nothing is Okay
Silver Lining: Both Sam Quinn and Jill Andrews have since launched solo careers.
Why They Should Come Back:
"City Noise (Live at Paste)"

---
Daughters
Formed/First Release: 2001; Daughters EP, 2002
Disbanded: Early 2010
Buy This Now: 2010's Daughters LP
Silver Lining: According to gutarist Nick Sadler, "it's great to be away from the stresses of the band." Sadler is also now a member of Fang Island.
Why They Should Come Back:
"The Hit"

---
Be Your Own Pet
Formed/First Release: Damn Damn Leash EP, 2005
Disbanded: August 2008
Buy This Now: 2006's Be Your Own Pet
Silver Lining: Lead singer Jemina Pearl's solo record, 2009's Break It Up, was a serviceable enough debut, but these folks are young; they'll create interesting new music again soon.
Why They Should Come Back:
"We Will Vacation, You Can Be My Parasol"

---
The Postal Service
Formed/First Release: "Such Great Heights" single, 2003
Disbanded: Although rumors of a second album have been appearing and reappearing over the years, the semi-official line on the band currently is "hiatus."
Buy This Now: 2003's Give Up
Silver Lining: Taking a break from The Postal Service means more time for those other bands.
Why They Should Come Back:
"Such Great Heights"

---
Mika Miko
Formed/First Release: CD-R of demos, 2003
Disbanded: October 2009
Buy This Now: 2009's We Be Xua
Silver Lining: Members of the band have scattered out to other interesting acts like The Strange Boys and Cold Cave.
Why They Should Come Back:
"Turkey Sandwich"

---
Fall Out Boy
Formed/First Release: 2001; self-released demos, 2002
Disbanded: November 2009 (indefinite hiatus)
Read This Now: Six Reasons Why Fall Out Boy Does Not Suck As Much As You Think
Silver Lining: Pete Wentz and Patrick Stump have more time for Twitter this way. Meanwhile, the other dudes have more time for metal supergroups.
Why They Should Come Back:
"A Little Less Sixteen Candles, a Little More 'Touch Me'"