The White Stripes' 10 Best Songs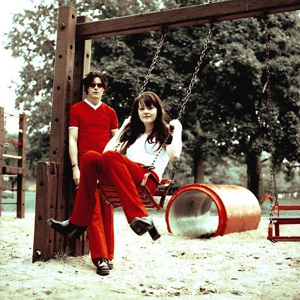 Wednesday, the world mourned as The White Stripes announced their official break-up. Citing neither artistic differences nor lack of health or desire, but rather a desire to preserve something beautiful, Jack and Meg White parted ways after more than 13 years of music. "The White Stripes do not belong to Meg and Jack anymore," the band said in a statement. "The White Stripes belong to you now and you can do with it whatever you want."
What we want is to look back at 10 of our favorite songs by the iconic rock two-piece. Some mainstay singles, some lesser known gems, all distinctly Jack and Meg.
10. "Hello Operator"
"Hello Operator, can you give me number nine?" We pause a beat, waiting for a response as the operator ticks away. Patience is rewarded with one of Jack's signature guitar explosions.
9. "Let's Build a Home"
Coming from their second studio album, De Stijl, "Let's Build a Home" uses a guitar slide and a quick rhythm pace to fuse the band's blues and punk styles.
8. "My Doorbell"
Trading in his traditional guitar for a piano, Jack helped garner the duo a Grammy nomination for Best Pop Performance by a Duo or Group with Vocals.
7. "Hotel Yorba"
Recorded in the very hotel off I-75 in southwest Detroit, Michigan that gives the song its name, "Hotel Yorba" brings an upbeat country sound that got the pair "sort of banned for life" from the hotel.
6. "Fell in Love With a Girl"
Fell in love with the White Stripes is more like it. From the darling lego stop-motion animated music video to Jack and Meg's raging instruments, this is the song that America fell in love with.
5. "I'm Slowly Turning Into You"
Marking a return to their garage rock and blues roots, "I'm Slowly Turning Into You" helped the White Stripes's Icky Thump win a Grammy for Best Alternative Music Album.
4. "Screwdriver"
"I got a little feeling going now!" Jack White wails over and over. Backed by his well known garage rock guitar riffs, "Screwdriver" is one not to be missed off Stripes' self-titled debut.
3. "As Ugly As I Seem"
Noticeably different from most Stripes songs, "As Ugly As I Seem" features Jack on an acoustic guitar backed by a light beat alone. Calm, cool, Jack's voice rings clear in a rare departure.
2. "Little Room"
A mere 52-seconds long, nearly half of which consists of Jack incoherently mumbling "da de da na na na"s. It's 52 seconds of pure unadulterated White Stripes; 52 seconds of fun.
1. "Seven Nation Army"
The song that rocketed the White Stripes to international fame, winning a Grammy in 2004 for Best Rock Song and producing one of the most recognizable guitar riffs in Rock history—and a tune for marching bands for decades to come.
Others Tagged With