13 Intriguing Band Names From SXSW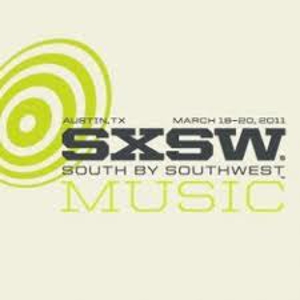 With over 2000 bands taking the stage at SXSW this year, the task of choosing which ones to see can be a little daunting. Sometimes a great name can help a lesser-known band stick out in the crowd. Thus, we bring you 13 of the most intriguing band names we've found at SXSW 2011. One day you'll see these babies in lights!
1. Puffyshoes
Tokyo, Japan
At a festival where everyone's been on their feet all day, being named after comfy footwear could work to these fuzz-rockers' advantage.
2. Ghettosocks
Halifax, Nova Scotia
Wear 'em with your Puffyshoes.
3. Totally Enormous Extinct Dinosaurs
Oxford, England
If he wanted a tougher image, Orlando Higginbottom should have opted for the significantly more threatening "Totally Enormous Live Dinosaurs."
4. Penguin Prison
New York, N.Y.
In which our favorite flightless birds spend a little time in the slammer.
5. Greco-Roman Soundsystem
London, England
It may sound like a project involving James Murphy wrestling his enemies, but it's actually a powerhouse DJ team led by Full Nelson.
6. American Scarecrows
Minneapolis, Minn.
What better way to signify your Americana roots than by naming yourself after our iconic, brainless friends?
7. Shit Horse
Carborro, N.C.
Naming yourself "Shit Horse" is a pretty ballsy move: If you happen to release a less-than-stellar piece of work, you're practically begging critics to come up with quasi-clever plays on your moniker.
8. When Dinosaurs Ruled the Earth
Austin, Texas
Unlike Totally Enormous Extinct Dinosaurs, this group chooses to focus on our prehistoric enemies' reign of terror rather than their ultimate demise.
9. 1,2,3
Pittsburgh, Penn.
Why not name your band after something you're going to yell at the beginning of each song anyway? Simple and efficient.
10. Schmillion
Austin, Texas
A name impervious to apathy. "Schmillion, schmillion" just doesn't have the same effect.
11. Hoodie Allen
Dix Hills, N.Y.
We picture some bizarre cross between the legendary comic and Mark Zuckerberg.
12. Dinosaur Pile-Up
Leeds, England
Apparently awesome "Dinosaur" bands are the "Bear" bands of 2011.
13. Uncle Jesse
Baltimore, Md.
Hopefully confused Full House fans don't turn up to the set looking for Jesse and the Rippers.
Others Tagged With