13 Great Musical Moments in John Hughes Movies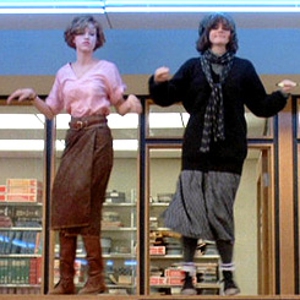 Page 1 of 2
Last month we brought you 13 Great Musical Moments in Wes Anderson Films, and this time we're paying tribute to another director with a stellar ear: the one and only John Hughes.
Anderson may be artier, but Hughes is for the masses: If you are, have been or ever will be a teenager, you can relate to his work, and his movies wouldn't be the same without their classic soundtracks. Here are our picks for the best Hughes-directed musical moments (and a few he merely penned that were too good to omit).
13. "Oh Yeah," Ferris Bueller's Day Off

Only the German-language version of this scene is available on YouTube, but luckily "ch-chika-chika-ahhh" is universal.
12. "White Christmas," Home Alone
Sorry, Macaulay Culkin. You could win an Oscar for a gritty adult drama one day, and we'd still forever think of you as this adorable, screaming kid.
11. "If You Leave," Pretty in Pink
This Orchestral Manoeuvres in the Dark track was written specifically for the movie, and this scene propelled it all the way to number four on the charts in 1986. We'd rank it higher on the list, but we have to dock a few points for Andrew McCarthy's hideous wig.
10. "Holiday Road," Vacation
Thanks to Lindsay Buckingham, we'll always hear this ditty in our heads anytime a family vacation goes haywire. Check out the movie version here or watch the music video below.
9. "Back in Baby's Arms," Planes, Trains and Automobiles
The classic scene in which Steve Martin and John Candy wake up spooning is made even more hilarious by Hughes' song choice. A tip for all the kids out there: Always make sure what you're holding onto is actually a pillow.
8. "Pretty in Pink," Pretty in Pink
In this flick, Molly Ringwald's a New Wave princess from the wrong side of the tracks, so it's only fitting that this Psychedelic Furs track serves as her theme song.
Others Tagged With