13 Great Musical Moments in Quentin Tarantino Movies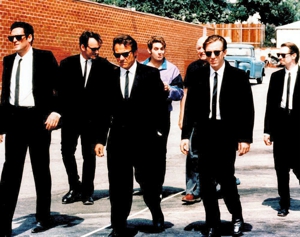 Page 1 of 2
Continuing our trend of bringing you great musical moments from various directors' careers (Wes Anderson, John Hughes, Alex Gibney), we shift to the man who's brought us hours of gritty, gruesome action and drama: Quentin Tarantino.
Tarantino uses music to shape the overall tone of the movie and as a stark juxtaposition to the unimaginable acts of violence on screen. Here are 13 of our favorite musical moments from Tarantino movies. Warning, spoilers ahead.
13. The 5.6.7.8's – "I'm Blue" "Woo Hoo"
(Kill Bill)
The Japanese garage-rock trio performs as the house band for the House of Blue Leaves, a teahouse that soon becomes the site of the Bride's epic battle with the Crazy 88's. We like to forget that their cover of "Woo Hoo" was later burned into our brains by way of a Vonage commercial.
12. Brothers Johnson – "Strawberry Letter 23"
(Jackie Brown)
One of the best parts of Jackie Brown was its kickin' '70s soundtrack, particularly when "Strawberry Letter 23" plays in the car before Samuel L. Jackson pays a visit to Robert De Niro.
11. Chuck Berry – "You Never Can Tell"
(Pulp Fiction)
"I want to dance, and I want to win. I want that trophy, so dance good." Mrs. Mia Wallace and Vincent Vega have no problem doing just that, twisting their way though the Jack Rabbit Slim's Twist Contest.
10. Dave Dee, Dozy, Beaky, Mick & Titch – "Hold Tight"
(Death Proof)
Tarantino's contribution to the Grindhouse double feature gives us this memorable scene as four girls jam out in their car before the maniacal stuntman/serial killer Mike (Kurt Russell) crashes into them with his "death proof" car. At least they went out to a bitchin' song.
9. David Bowie – "Cat People (Putting Out Fire)"
(Inglorious Basterds)
The theme to Shoshanna's revenge, the lyrics "putting out fire with gasoline" seem fitting for a plan that ends with a theater full of Nazis going up in a fiery blaze.

Embedding disabled by request. Watch on YouTube.
8. Dick Dale – "Misirlou"
(Pulp Fiction)
Shortly after Pumpkin and Honey Bunny hold up the diner, Pulp Fiction's awesome opening credits roll, featuring the surf-rock jam classic "Misirlou." We love it, despite what the Black Eyed Peas did to it years later.
Others Tagged With