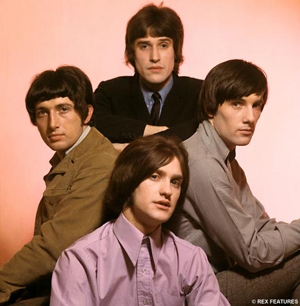 Loyal Paste followers already know that we're huge fans of The Kinks, so it should be no surprise that the latest update about their possible reunion has our hearts aflutter.
We've been begging for the brothers Davies to get back together for some time now. But we're used to playing the waiting game, so to tide ourselves over until Ray and Dave bury the hatchet, we give you our picks for the 15 Best Kinks Songs.
15. "Sunny Afternoon"

A summer anthem that reminds us that no matter how broke we are, we can always be lazing on a sunny afternoon.
14. "Apeman"

Sure, Ray Davies' affected Rasta accent on this track is a little goofy, but it's worth enduring for the biting social commentary. No offense to our meat-averse friends, but "I think I'm so educated and I'm so civilized because I'm a strict vegetarian" is a fantastic line.
13. "This Time Tomorrow"

From the first chords to the sounds of an airplane taking off in the background, it's clear this is a classic travel tune. But beyond physical treks, Davies uses this as an opportunity to wax poetic on life's journey as well.
12. "Dedicated Follower of Fashion"

In which The Kinks make a mockery of the London scenesters of the day. Decades before James Murphy was losing his edge, Ray Davies was sticking it to the in-crowd with lines like "He thinks he is a flower to be looked at, and when he pulls his frilly nylon panties right up tight, he feels a dedicated follower of fashion."
11. "Acute Schizophrenia Paranoia Blues"

This rollicking Muswell Hillbillies track features a killer horn section and some great Davies vocals. Keep this man away from the psychologist's office.
10. "20th Century Man"

Shakespeare gets a shout-out as The Kinks lament being born into the wrong era: "I'm a 20th century man, but I don't want to be here."
9. "Everybody's A Star (Starmaker)"

An extremely danceable bass groove, some nifty handclaps and a message Average Joes everywhere can get behind: "No matter how dull or simple you are, everybody's a star."
8. "A Well Respected Man"

A fascinating character study of a man who lives his life by the book.
7. "Powerman"

It's a song for the disenfranchised, but the driving beat on this ditty from Lola Versus Powerman and the Moneygoround, Pt. 1 is enough to make even the most powerless listener feel like a badass.
6. "Victoria"

This Arthur track is a satirical ode to the British queen, featuring some of Davies' musings on the English identity. He even manages to work in a dig at the late monarch's legendary prudishness: "Sex was bad and obscene, and the rich were so mean."
5. "You Really Got Me"

The Kinks' 1964 breakthrough hit is widely (and rightly) considered an all-time great. Those unforgettable power chords laid the groundwork for generations of hard rock bands to come.
4. "Lola"

Davies penned this classic track after the band's manager Robert Wace had an accidental encounter with a transvestite. Don't sweat it, Robert, "girls will be boys and boys will be girls."
3. "All Day and All of the Night"

Ray's sneering vocals and an iconic guitar riff combine to make one of the most instantly recognizable garage hits of all time.
2. "Strangers"

It's no secret we love this song. So far it's appeared on not one but two other Lists of the Day. Can you blame us, though? Try not to get chills as Dave Davies takes the lead and teaches us the meaning of life.
1. "Waterloo Sunset"

Other songs may be more influential or boast wittier lyrics, but none are as simply beautiful as "Waterloo Sunset." The guitar part feels like a hug from an old friend, and the lyrics remind us that sometimes all you truly need is someone to walk along a bridge with.
Others Tagged With