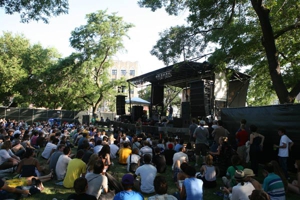 Page 1 of 3
Countless songs have been written and dedicated to that two-day break when we're free to do, well, whatever the hell we want. Weekends are almost always full jovial experiences, so many of the songs mimic that with upbeat, catchy tunes. Not all, though. Sometimes weekends just involve sitting back and enjoying yourself. So some songs involve that, too.
We've alternated between classic artists and modern artists, because no matter what decade it is, somebody's always writing about the weekend.
As an aside, we refuse to put Rebecca Black's "Friday" on here. Yes, it fits this list perfectly. Except for that whole thing about sucking.
1. Bay City Rollers – "S-A-T-U-R-D-A-Y Night"



2. Of Montreal – "Everyday Feels Like Sunday"



3. Loverboy – "Working for the Weekend"



4. Beck – "Sunday Sun"



5. The Easybeats – "Friday On My Mind"



6. MGMT – "Weekend Wars"



7. Tom Waits – "The Heart of a Saturday Night"



8. Old 97's – "Every Night is Friday Night (Without You)"



9. The Grateful Dead – "One More Saturday Night"



10. LCD Soundsystem – "All My Friends"
Okay, the title doesn't countain "Weekend, Friday, Saturday, or Sunday," but we'd be remiss if we excluded a James Murphy creation from a list of Weekend songs.