The 15 Best Radiohead Covers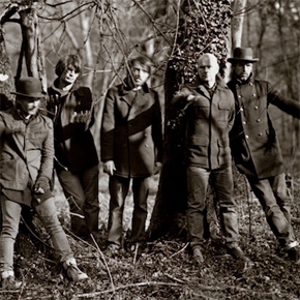 So far this year, Radiohead has unexpectedly—and is there any other way when it comes to this band?—released its eighth album, unintentionally launched a viral mash-up video trend, entered into the newspaper business, released a Record Store Day 12" and announced a full-album BBC broadcast of the new record. While countless bands have mimicked the Radiohead sound, quite a few have also recorded their songs. Here are our 15 favorite Radiohead covers.
15. Robotanists – "Codex"
After Radiohead released their most recent record, The King of Limbs, back in February, L.A.'s Robotanists assigned themselves with the arduous task of covering the whole album within 24 hours. Their interpretation of "Codex" is their best effort, swapping the filtered piano for an electric guitar and backed by Sarah Ellquist DeBlanke's smooth vocals. Read our interview with Robotanists about their King of Limbs project here.
14. DJ Spooky and Joshua Roman – "Everything in Its Right Place"
When Radiohead released Kid A in 2000, they traded in their electric guitars for ondes Martenots and laptops. Within the first few bars of track 1, "Everything in Its Right Place," it becomes clear that this music lives in a completely different world than OK Computer. That being said, how else do you cover the song than with a cello and an iPad?
13. Amanda Palmer – "Fake Plastic Trees"
Amanda Palmer recorded a ukulele cover of this Bends-era single for an EP dedicated to the band's music called Amanda Palmer Performs the Popular Hits of Radiohead on Her Magical Ukulele.
12. AmpLive (ft. Codany Holiday) – "15 Stepz"
Part cover and part remix, this soulful interpretation of "15 Step" was released shortly after In Rainbows as part of a Radiohead/hip-hop project by producer and DJ AmpLive.
11. Gnarls Barkley – "Reckoner"
The duo behind Gnarls Barkley began working this In Rainbows track into their sets shortly after the album was released in 2007. Cee Lo Green and Thom Yorke may have pretty different vocal stylings, but Green's soulful voice is perfectly suited to this song.
10. John Mayer – "Kid A"
When John Mayer isn't making young women weep with his pop love ballads, he must listen to a little bit of Radiohead. Rather than take the easy route with one of the band's earlier, more straightforward rock songs, Mayer's interprets the title track from arguably the band's most non-traditional record.
9. John Vanderslice – "Karma Police"
For the 10th anniversary of OK Computer, Stereogum curated a tribute one of Radiohead's early masterpieces with OKX. Vanderslice was one of several artists who contributed.
8. Punch Brothers – "2+2=5"
Chris Thile and his bluegrass project, Punch Brothers, aren't shy about their adoration for Radiohead. This cover of Radiohead's most directly Orwellian track is just one of several tributes the band frequently works into their live sets.
7. Vampire Weekend – "Exit Music (For A Film)"
Another contribution to Sterogum's OKX album, Vampire Weekend takes one of Radiohead's darkest songs about forbidden love and transforms it into a dance tune one might hear in a David Lynch-ian discothèque.
6. Punch Brothers – "Packt Like Sardines in a Crushed Tin Box"
Punch Brothers have several Radiohead covers in their repertoire, but unlike most groups, they choose to tackle some of the band's most difficult material. This discordant electronic track from Amnesiac was reinterpreted using traditional bluegrass instruments for an iTunes exclusive bonus track from Punch Brothers' second album, Antifogmatic.
5. Jamie Cullum – "High and Dry"
For Jamie Cullum's third album, Twentysomething, he recorded several covers ranging from jazz standards like Cole Porter's "I Get A Kick out of You" to psychedelic blues-rock like Jimi Hendrix's "The Wind Cries Mary." But Cullum's cover of "High and Dry" stands out as one of the most beautiful and emotional songs on the record.
4. Regina Spektor – "No Surprises"
With Regina Spektor's soft whisper singing and the stellar piano arrangement of this OK Computer cut, it sounds as if the song was written just for her.
3. Mark Ronson (featuring Alex Grenwald) – "Just"
For Mark Ronson's sophomore effort, Version, the acclaimed producer decided to record an album of cover songs. His treatment of "Just" from The Bends brings a healthy dose of funk and soul to the track. The music video for the Ronson version picks up right where the original cryptic video leaves off.
2. Gillian Welch – "Black Star"
Gillian Welch's country croon is exactly what you never knew this Bends-era song needed to become even more beautiful.
1. Ingrid Michaelson – "Creep"
"Creep" is a strange Radiohead song in the way that it practically single-handedly launched them into both critical acclaim and mainstream acceptance while mislabeling them as a radio-friendly Nirvana. The band rarely plays the song live anymore, but hearing Ingrid Michaelson's beautiful, minimalist ukulele take on the song would have to be enough to make even Thom Yorke admit that he has a soft spot for the track.
Others Tagged With