The 15 Best Songs Covered By The Flaming Lips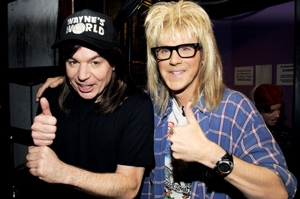 Page 1 of 2
The Flaming Lips have been covering the classics since first forming in 1983. And while crowd pleasers "Bohemian Rhapsody" and "War Pigs" have become celebrated additions to the group's set lists, the band hasn't been shy when selecting a variety of material to personalize over the years. From The White Stripes to Kylie Minogue, we've compiled a list songs that have received a trippy makeover from the masters of fake blood and bunny costumes.
15. "Man Who Sold the World"
David Bowie
Long before Wayne's plastic bubble sailed through the Lips' crowds, the psychedelic group was just another punk band—tearing through late-night shows in seedy clubs and tiny bars—and occasionally putting their spin on classics, including this one by David Bowie.
14. "Can't Get You Out of My Head"
Kylie Mynogue
While the Oklahoma natives might not specialize in dance-pop hits, it didn't stop them from offering their take on the Australian pop star's insanely catchy 2001 single.
13. Medley from Tommy
The Who
Complete with an introduction from Rainn Wilson, VH1's audience for the music network's 2008 Rock Honors tribute celebrating The Who couldn't have anticipated what the Lips had in store as Wayne started-off the band's run-through of classics from the honorees' Tommy while encased in his signature bubble.
12. "After The Gold Rush"
Neil Young
Just minutes before the classic singer/songwriter took the stage in 2008, the Lips gave him an early welcome by capping-off their show with an unexpected rendition of one of Young's most well-known tracks.
11. "Go"
Daniel Johnston
with Sparkle Horse
What's more awesome than a joint effort by The Flaming Lips and Sparkle Horse? When both bands lend their talents to a cover of Daniel Johnston's "Go."
10. "The Song Remains The Same"
Led Zeppelin
Interestingly enough for a group who penned the (tongue-in-cheek) tune "Hari-krishna Stomp Wagon (Fuck Led Zeppelin)" the Lips have been known to cover Zeppelin with a stage full of naked women.
9. "Somewhere Over The Rainbow"
Harold Arlen and E.Y. Harburg
An appropriate song for a band known for their love of all-things colorful.
Others Tagged With