16 Awesome Led Zeppelin Covers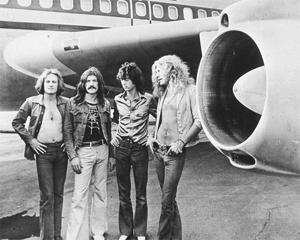 Page 1 of 2
Trent Reznor and Karen O recently released a cover of Led Zeppelin's "Immigrant Song" for the soundtrack to The Girl With the Dragon Tattoo. We liked it so much, we went on a search for some other covers of Zeppelin classics. These bad boys revolutionized music — who wouldn't want to imitate them? The awesome covers listed below may make you wanna "Bron-Y-Aur Stomp" the night away, feel like you yourself are ascending the "Stairway to Heaven" or leave you just plain "Dazed and Confused."
16. Stone Temple Pilots – "Dancing Days"
STP infused this track with their grunge sensibilities and left us with a cover good enough to make us forget that Scott Weiland didn't actually pen the song.
15. Elliott Smith – "Friends"
Smith's haunting vocals are hard to forget after listening to this cover of the second track on Led Zeppelin III.
14. Trent Reznor & Karen O – "Immigrant Song"
Though this song hasn't been released yet in its entirety, we love what we've heard so far.
13. Frank Zappa – "Stairway to Heaven"
Weird and wacky Zappa gets theatrical in this crazy cover, complete with dogs barking and a clapping chorus line.
12. Bond – "Kashmir"
Proof that string quartets aren't only for classical music.
11. 4 Non Blondes – "Misty Mountain Hop"
Woah, check out the pipes on Linda Perry.
10. Corinne Bailey Rae – "Since I've Been Loving You"
Sweetheart Corinne Bailey Rae gets down to business with this cover of gritty "Since I've Been Loving You."
9. Nirvana – "Heartbreaker"
Grimy grunge gods meet the work of rock legends and kick its ass.
Others Tagged With