The 20 Best Of Montreal Songs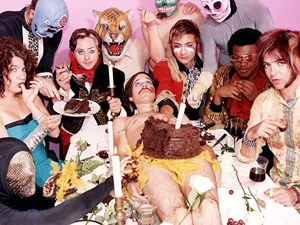 Page 1 of 2
It's easy to forget exactly just how many insanely catchy glammed-out pop songs Of Montreal's Kevin Barnes has crafted over the group's multiple album career. With every new release, we find ourselves falling more deeply in love with the Athens collective all over again; and for good reason, Barnes' song-writing is refreshingly exuberant in its lack of modesty, touching on everything from the overtly sexual to the just plain silly.
As part of the quirky Elephant 6 Collective (The Apples in Stereo, Circulatory System, Neutral Milk Hotel), the group has had plenty of support over the years. And with their increasingly bizarre live shows that include everything from wedding dresses to stilts, Of Montreal's initially compact list of devout fans has steadily grown into a small army.
After painstakingly narrowing down our glitter-adorned rockers' catalogue, we've come up with a list of our favorite tunes. And as long as Barnes and company continue explore all things whimsical, we have little doubt that there will be plenty more to come.
20. "Fun Loving Nun"
The Gay Parade
She's not quite like the conventional sister/no she's not/I've never seen her frown/or hold her head down/I've never heard her say/"I'm bored" or "get away"
19. "The Repudiated Immortals"
Satanic Panic in the Attic
The creator of what's now cliché had some funny words to say/"all you little things are incomplete"/why did he speak of us that way?/I don't cry not 'cause I don't care/It's very hard to feel the way we used to feel up there
18. "Gronlandic Edit"
Hissing Fauna, Are You the Destroyer?
I guess it would be nice to help in your escape/From patterns your parents designed/
All the party people dancing for the indie star/But he's the worst faker by far/But in the set, I forget all of the beauty's wasted
17. "Everyday Feels Like Sunday"
The Sunlandic Twins
And for years I bowed /I could not sleep so very well/Even standing up I crawled/Yet there is a softness I can tell
16. "Id Engager"
Skeletal Lamping
Ladies, I'm screaming out to you from the depths of this phallocentric tyranny/My self-concept is awaiting your invasion/Clumsy penetration punishment, oh yeah!
15. "The Past is a Grotesque Animal"
Hissing Fauna, Are You the Destroyer?
The past is a grotesque animal/And in its eyes you see/How completely wrong you can be/How completely wrong you can be
14. "Rapture Rapes The Muses"
Satanic Panic in the Attic
You hit me so hard/Like a Wong Kar Wai beginning/I'm exploding in smiles/My equilibrium is spinning
13. "She's A Rejector"
Hissing Fauna, Are You the Destroyer?
My, my, you busted me like a Robocop/Strike me with your riding crop/I'm forever going celibate tomorrow/But tonight, like success, knows no shame
12. "Requiem for O.M.M.2"
The Sunlandic Twins
When I met you, I was just a kid/Hadn't built up my defenses/So I gave my heart completely/Vaseline over the lenses
11. "The Party's Crashing Us"
The Sunlandic Twins
Yeah, I only feel all right when the VU is flashing/And bombs going off in my head/
I want to grab you, want to scream at you/No icing you down/The party's crashing us now
Others Tagged With