The 10 Best Moments of Newport Folk 2011
There are a lot of great music festivals in the U.S., but very few of them can be described as "relaxing." Despite, having to run between simultaneous sets from Middle Brother, The Head and the Heart and Elvis Costello at one point, Newport Folk is just that. With the main stage looking over a boat-filled bay, the legendary festival's vibe is as pleasant as its line-up is impressive. Paste set up in a gorgeous crumbling room in Fort Adams—a military outpost built in 1799—to record 20 different bands. We called it The Paste Ruins at Newport Folk, and those exclusive performances will be posted at Paste over the next couple of weeks.
But here are our 10 favorite moments from the festival.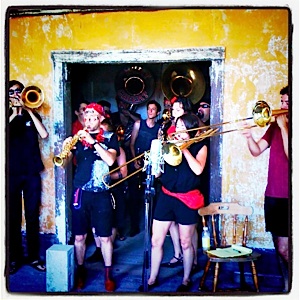 10. The What Cheer? Brigade marching all over the festival
This Providence, R.I.-based punk marching band made a joyful noise throughout the day on Saturday, including playing from the roof of the fort and The Paste Ruins.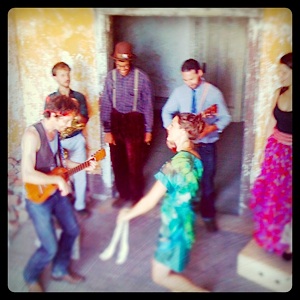 9. David Wax Museum graduating to the main stage
Like The Low Anthem last year, David Wax and Suz Slezak were charmingly giddy to be playing to a much larger crowd at Newport. The band got its start in Boston, and a large contingent of Bostonians came down for support. They also played one of the most joyfully rambunctious sets at The Paste Ruins later in the day.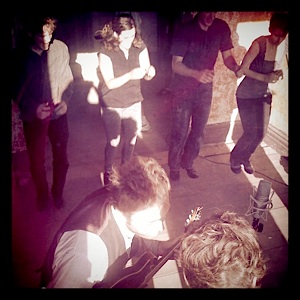 8. Chris Thile and Michael Davies' impromptu jam
After showing up 20 minutes late to our scheduled recording session inside Fort Adams, Chris Thile and Michael Daves more than apologized by huddling around one microphone to play two lively folk songs for us. While recording, Chris saw that a decent-sized crowd was lining up around the fenced-off area to catch a glimpse of their mini-set. Not wanting to leave anyone missing out, he yelled out to the crowd that he'd play one song for them after he was done. What ensured was a five-minute jam with the crowd inside the quad with the several of the musicians in the Seeger Clogging All-Stars that stood as both spontaneous and energetic.—Max Blau


File photo
7. Freelance Whales backed by the PS22 Chorus
The New York public school chorus has become famous for its vocal renditions of indie-rock songs, and they played the kids stage with fellow New Yorkers Freelance Whales.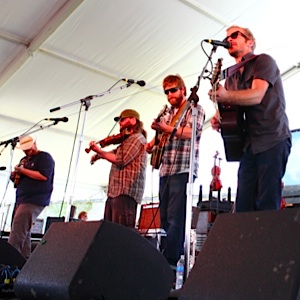 Photo by Richard Gastwirt
6. Trampled By Turtles making the Quad Stage feel like the Main Stage
Roughly half of the people at Newport showed up to the secondary Quad Stage to hear the bluegrass-with-a-touch-of-punk band shred their instruments. The boys from Duluth, Minn., played our Paste party at SXSW this year, so we took a little pride in seeing them get (we think) this year's only Newport encore.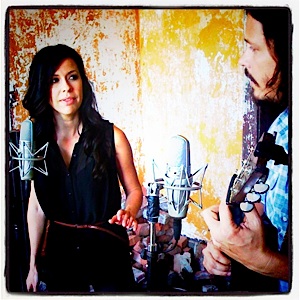 5. Emmylou Harris with The Civil Wars
My favorite moment of Newport might have been getting to introduce The Civil Wars from the stage, but musically, it was hard to top hearing them sing "Evangeline" with Emmylou. The photo above is from The Civil Wars' set at The Paste Ruins.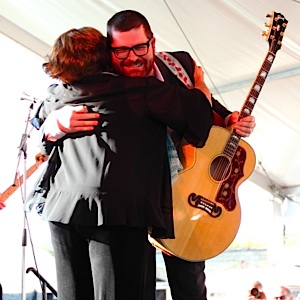 Photo by Richard Gastwirt
4. Mavis Staples with Colin Meloy
The Decemberists' frontman joined the gospel legend on her birthday to sing what's become the go-to song for anyone collaborating at a festival: "The Weight."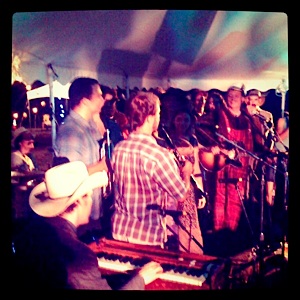 3. The Newport Folk Backstage Benefit BBQ
The bill for the first annual benefit concert for the non-profit festival listed The Low Anthem and John McCauley from Deer Tick. But so many other acts jumped up on stage that the finale was a drunk McCauley in a bear suit leading members of The Decemberists, Delta Spirit, The Felice Brothers, Sallie Ford, Gillian Welch, David Rawlings, The Felice Brothers, The Low Anthem, Pokey LaFarge, Sara Watkins David Wax Museumand others I'm probably forgetting in "Goodnight Irene." Then, as they were about to get off-stage, he launched into "La Bamba," which became "Twist & Shout," which became, briefly, "I Wanna Be Sedated." The McCauley was in his own world, but the impromptu band hardly missed a beat with Rawlings going toe-to-toe with his fellow Rhode Islander.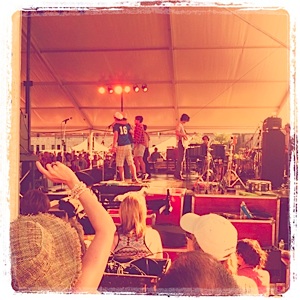 2. The rest of Middle Brother joining Dawes for "When My Time Comes"
Dawes played a short, unannounced set between Middle Brother (which includes Dawes' Taylor Goldsmith) and M. Ward (who had Dawes as a backing band). John McCauley and Delta Spirit's Matt Vasquez jumped back up on stage for the band's biggest ballad, and the crowd never sang louder all weekend.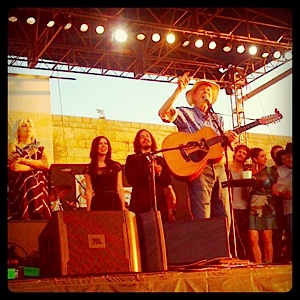 1. Pete Seeger leading everyone in a closing sing-along
Pete Seeger played the first Newport Folk Festival in 1959, and he was back at 92. "I don't have much voice left," he said but the crowd and his backing singers (Emmylou Harris, The Civil Wars, David Wax Museum, Dawes, Middle Brother, Ramblin' Jack Elliott, etc.) added their voices to "Where Have All The Flowers Gone?" and "Turn, Turn, Turn!" to end this year's fest.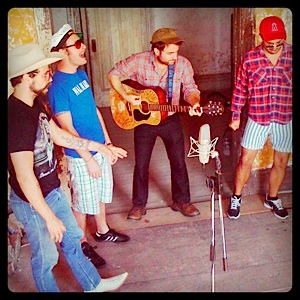 Bonus: Middle Brother at the Paste Ruins
Few bands have more fun playing together than Middle Brother. It's something that was quite evident throughout this past weekend's Newport Folk Festival as Taylor Goldsmith, John McCauley and Matt Vasquez ran around the grounds as if it was their day to conquer. To put it simply, this Americana supergroup was on fire all day, with nearly everything they did being brilliant. While their actual set turned plenty of heads, their session in the Paste ruins stood out as one of the best we filmed and recorded. Check out their rollicking performance of "Middle Brother" with Jonny Corndawg here. —Max Blau
The Paste coverage of the 2011 Newport Folk Festival is brought to you by Sennheiser.
Others Tagged With