14 Awesome Webcomics To Distract You From Getting Things Done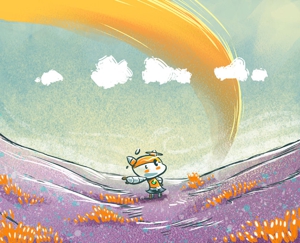 Page 1 of 2
The first online comic was Witches and Stitches, written and drawn by Eric Millikin and published on CompuServe way back in 1985. For those of you as slow as me at math, that's 26 years ago which makes webcomics older than digital cellular phones, the oldest Jonas brother, the Power Rangers (though not older than Japanese Sentai series in general), the disposable camera, the first 3D video game, disposable contact lenses, the use of Doppler weather radars in the US, Prozac and the World Wide Web.
Yet webcomics, despite their enduring popularity and mass proliferation in all corners of the Internet in the past decade or so, continue to be largely unprofitable. So, in honor of these unsung and mostly underpaid artists who work directly from the heart (and often strange corners of the human brain), here's a list of 14 awesome webcomics (excluding things like Penny Arcade, XKCD, etc. that everyone and their mother already reads) for you to browse through next time you've got time to kill and access to the Internet. It's not like you really need to get your work done or anything…right?
1 Hark! A Vagrant
Creator Kate Beaton has been uploading her comics online since 2007, officially launching the Hark! A Vagrant website in 2008. Her comics tend to be historical in nature (not surprising considering her degree in History and Anthropology) and her art is superb, getting better every year.
2 Registered Weapon
Cash Register. Robot. Cop. From the site's own description, "Frank Gorman is LA's toughest homicide detective. His partner FELIX is a robotic cash register programmed to be a walking CSU. Crime may pay…but justice is all out of change." This is one of the most entertaining hard-boiled detective parodies you're likely to come across, with witty dialogue written by Gardner Linn & Chris Thorn and crisp illustrations by Dave Lentz & Rob Simmons.
3 Bayou
"Lee Wagstaff, the daughter of a black sharecropper in depression-era Mississippi, and Bayou, a blues-singing swamp monster, trek across a hauntingly familiar Southern Neverland, confronting creatures both benign and malevolent, in an effort to rescue Lee's father and Lily, Lee's white playmate." Written and drawn by Jeremy Love, Bayou differs from the other entries here in that it's not a free online series, though it is hosted online and the first issue is available for free at the comic's portal linked to in the title. Despite this, it's too hard to ignore such a beautifully drawn work that features a haunting, magical trek across the imagination of the deep south by a young African-American girl on a journey to save her father.
4 For Lack of a Better Comic
A fairly recent entry onto the scene, Jacob Andres's brainchild For Lack of a Better Comic covers a variety of pop culture topics with a charmingly simple art style and an often self-deprecating sense of humor.
5 Gunshow
One of artist KC Green's earlier efforts, Comics Without Violence ran for about 5 years, during which time Green honed his art style and knack for offbeat comedy before launching his current flagship series Gunshow. From the About page, "Gunshow is a comic about a lot of different things. Like bones and blood and sadness and love. And also nerds and hell and dogs and death. And also growing up and breaking down and getting over something and ghosts. And also family and kids and moms and dads. And then maybe a comic or two about a mummy with a huge erection. Truly Gunshow must be THE comic for everyone!"
6 Hipster Hitler
This comic is exactly what the title implies, Adolf Hitler with all the terrible sensibilities of a modern day hipster. Hipster Hitler features an interesting mix of history jokes and references, hipster parody, and some of the most creative ironic T-shirts mixing WWII era history with modern pop-culture references. The amount of misguided hatemail they've received prompted one of the more comprehensive About pages I've ever seen.
7 Scenes From A Multiverse
Jonathan Rosenberg is one of the older webcomic artists, starting way back in 1997 with Goats, a popular webcomic that ran for over 10 years before Rosenberg put it on hiatus to focus on his latest venture Scenes From A Multiverse, which launched in 2010. The webcomic is updated daily Monday through Friday, with each strip highlighting an entirely new setting somewhere in the everyday happenings of the multiverse, skewering pop-culture from alien and/or futuristic perspectives.
Others Tagged With