Six Reasons to Listen to The Flaming Lips' Six-Hour Song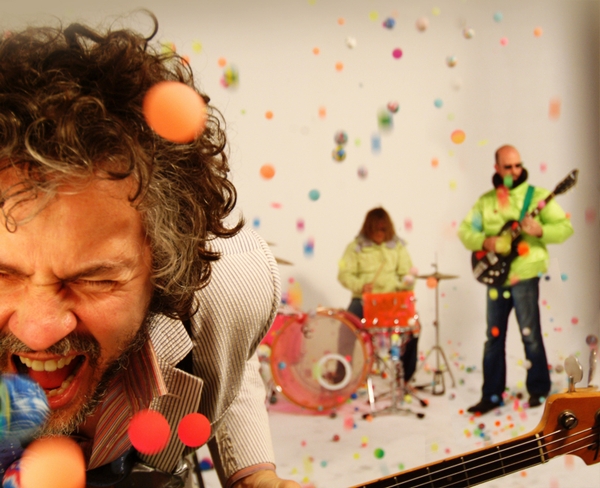 The Flaming Lips' six-hour song, "I Found This Star on the Ground," is the weirdest thing the band's done in a while-and that's saying something. While the Lips periodically leaked info about how the song was evolving, the updates couldn't have really prepared anyone for the sheer mass of the song when it finally arrived. It was released physically and digitally last week, and here are some reasons why you should take a listen.
6 – The band got things together fast
In the article we wrote about the release of "I Found This Star on the Ground," we talked about how quickly the band pulled it together. From the road, they organized a release of the physical package, which was assembled as the band toured:
"They pretty much got ahold of us pretty late afternoon the day before and said 'Hey, we love you guys, we'd like to do this thing' and we started getting it together," said Tony Gradischnig, manager of the Portland, Ore., record store Jackpot Records. "People started lining up pretty early. (The Flaming Lips) were actually putting together the toy and uploading the USBs with the six-hour song on their way into Portland. It was actually being constructed as they were driving in to the last second when they were driving up."
5 – You might have your name in it
For a few days, the Flaming Lips were allowing fans to pay to have their name appear in the song. But it wasn't just gimmicky or a ploy to make money. Instead, the band used all proceeds to go toward the Oklahoma Humane Society and ACM@UCO.
4 – You can say you listened to it
It's rock 'n' roll street cred: like watching the Dark Side of the Moon synced with the Wizard of Oz, or attending the original Lollapalooza. There are certain events that every fan holds close to them, and listening all the way through a six-hour song sounds a lot like one of those.
3 – You're following the Lips' direction on how to enjoy the track
Frontman Coyne had a few tips for fans enjoying the song, and it's up to you to decide how far you want to go with it. The physical edition of the album included a strobe toy that could be played with, and it was also intended to go along with, well, other things:
"I mean, I don't know if you could play with (the toy) for six hours, but it's kind of meant so that kids can like, take LSD and play with it." Coyne said in a Rolling Stone interview. "You know, that's kind of our intention, so that people buy it at like a festival, and then go back to their parents' and take some acid and play with it all night. So it's a song you can play while you're sitting at your computer, you plug it in and it plays all night."
2 – You're not doing anything else this weekend
Face it: This isn't the first time the band has turned music into an event. Zaireeka came out in 1997 and had buddies getting together with different audio systems to listen to the track. It turns a listening experience from mundane into exciting. So, invite your best buds and throw a six-hour song listening party. You can do plenty of long, tedious things during the song: clean your house, catch up on your laundry, alphabetize your vinyl and balance your checkbook.
1 – It's actually a cool track
Sure, it's repetitive, and the thing goes on longer than any other pop release I can think of. But as a track that blares in the background, there are cool moments of weird, alien noises and loops that will catch you off guard.
Others Tagged With